The Kia Sportage redesign is here, and there is a lot to talk about.
The new model has undergone several changes, so let's take a closer look.
The changes made to the exterior of the redesigned Kia Sportage are very much in line with its larger sibling, the Sorento SUV.
The now familiar tiger nose grille has returned, and the headlights are now a little higher, adding some real refinement to the athletic look of the Sportage.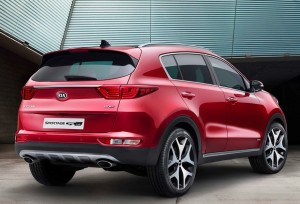 The wheels have been redesigned for this model year, as have the rear spoiler and wraparound taillights.
The overall look is a vehicle that is relaxing to ride around in, but which can call on some real power and attitude as needed.
2017 Kia Sportage interior redesign
The Sportage redesign carries over to the interior, where things are a little more upscale than they were on the outgoing model.
The new cockpit has been designed in a way that makes it incredibly driver-friendly, and features a modern design with the emphasis on horizontal lines.
The dashboard design now means that it features two distinct zones. The upper zone is where all the display elements are situated, including a touchscreen that has been tilted towards the driver to make it easier to see.
The lower zone is where all the controls are located, including the audio controls, and the ability to adjust the dual-one climate system.
The center console, like the touchscreen, has been angled towards the driver.
Other changes to the Kia Sportage
Now that we have covered all the important stuff, let's look at one of the fun options, the color choices.
There are certainly plenty to choose from with the 2017 Kia Sportage, as there are no less than 8 unique exterior colors on offer.
This adds the ability to personalize your vehicle a little, as there is sure to be a color to suit every taste.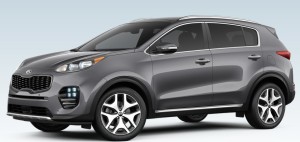 There are 6 different Kia Sportage colors available across all three trim levels, including two different shades of white.
The colors are Sparkling Silver, Mineral Silver, Pacific Blue, Burnished Copper, Hyper Red or Black Cherry.
The LX and EX trims come with the option of Clear White, while the Turbo SX is the only one that offers Snow White Pearl.
Redesigned Kia Sportage – the best crossover vehicle?
If you have been on the fence about buying the all-new Kia Sportage in the past, the changes made for the 2017 model may be enough to get you off the fence.
It's also sure to help that Kelley Blue Book named this Sportage the Best Buy of the Year in its segment.