Things you need to know about the factory spare tire kit for Kia Sportage SUV.
The Sportage crossover has become one of the more popular vehicles in the Kia line-up, and it's easy to understand why.
This is a vehicle that is equally at home as an everyday ride, as well as being a weekend adventure ride.
It's a vehicle that demands to be driven, and that usually means putting some wear and tear on the tires as you go.
It's always a good idea to have a spare handy, just in case of emergencies, and the genuine factory Kia Sportage tire kit ensures that you will be covered until such times as you can get a full size new tire in place.
Cost of Kia Sportage spare tire kit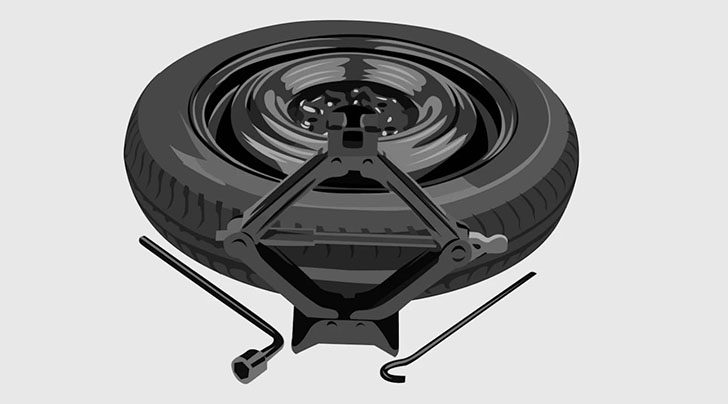 Genuine factory Kia product
Fits Sportage models: 2022, 2021, 2020, 2019, 2018 and 2018
Tire size: 17-inches
Includes: donut tire, steel wheel, jack and other tool kit and tool organizer
2022 Sportage spare tire kit Q&A
Here are a couple of frequently asked questions in regards to the 2022 Kia Sportage donut tire kit:
1. Is this spare tire kit an OEM Kia part?
Yes, it's a genuine factory Kia product!
2. What does it include?
This particular Kia spare tire kit includes a quality spare tire and steel wheel along with jack, tool kit and tool organizer!
3. Q&A: Does it fit all Sportage model years?
This product is designed for the use on the 2017, 2018, 2019, 2020, 2021 and 2022 Kia Sportage models! If you own a 2016 Sportage or any of the earlier models, you need to purchase a different spare tire kit.
Hit the link in the yellow button above to hit the Amazon.com and write doen "2016 Kia Sportage spare tire kit" in the Amazon search box. You should receive plenty of options to buy, but make sure you purchase the kit with good customer reviews!
Why you need a spare tire kit
This particular spare tire kit comes with all that you need to get your Sportage SUV back on the road as quickly as possible.
In addition to the temporary tire, you also get a steel wheel, tool organizer, and a tool kit with this set-up, and it is designed in a way that makes it very easy to stow away in the ample cargo space that you get with your Kia Sportage 2022 (model year).
Please keep in mind that this Kia Sportage spare tire kit is only meant to be a temporary solution! It will serve you well for short distances, but is not a tire that should be considered as a permanent solution.