The Detroit Auto Show is still a couple of weeks away, but Kia is creating a little buzz by delivering a second teaser shot of the GT4 Stinger concept.
A few details were included with the shot, including word that the car will have a 315 horsepower 2.0L turbocharged 4-cylinder petrol engine.
The Detroit Auto Show opens on January 13, which is where the GT4 Stinger will be officially unveiled.
Designed at Kia US US Design Center in California, the GT4 concept car shows off a real evolution in the current design language, with a noticeably bigger floating "tiger nose" signature grille up front that glows white around the perimeter.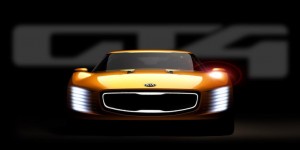 What can also be seen are a pair of LED strips where standard headlights usually appear, as well as a couple of vents in the hood to allow air into the turbocharged engine.
A press release from Kia also reveals that their latest concept vehicle will be outfitted with 20-inch alloys and a carbon fiber splitter under the front bumper that will help boost downforce.
Much of the talk about the concept is whether or not Kia will take the 2+2 coupe to the production level.
Kia clams that the car is nothing more than a styling exercise, but they have also said in the past that they would love to have a sports model in the lineup.
European CEO Paul Philpott spoke in 2011 about that very possibility, targeting 2014 as a year when Kia might possibly consider halo models to enhance the company brand.
Other news out of the Korean automaker is that the GT sedan concept will be available for sale in 2016, although they did not say whether or not it will employ a front wheel drive layout.