The sporty Kia sedan comes available in a rainbow of colors. Which one is your favorite?
The 2023 Kia Stinger color range features 7 different exterior paint shades.
To help our readers figure out the best color combinations, we have put together a simple guide that provides full details on the exterior color range of the new Kia Stinger.
In addition to the exterior color availability info, we have also published 7 pictures that showcase the Stinger in all colors (source: Kia configurator).
First things first, let's have a look at all available paint hues.
2023 Kia Stinger color options
Micro Blue Pearl
Snow White Pearl
HiChroma Red
Ceramic Silver
Panthera Metal
Aurora Black Pearl
Ascot Green
Kia Stinger 2023 color palette
1. Micro Blue Pearl

2. Snow White Pearl

3. HiChroma Red

4. Ceramic Silver

5. Panthera Metal

6. Aurora Black Pearl

7. Ascot Green

Available Kia Stinger colors (by trim level)
| | | |
| --- | --- | --- |
| Trim level | GT-Line | GT2 |
| | | |
| Micro Blue Pearl | + | + |
| Snow White Pearl | + | + |
| HiChroma Red | + | + |
| Panthera Metal | + | + |
| Aurora Black Pearl | + | + |
| Ceramic Silver | + | + |
| Ascot Green | + | + |
+ (color is available)
/ (color is not available)
The US-specs 2023 Kia Stinger sports sedan comes available in 2 different trim levels. Those are the base GT-Line and range-topping GT2.
All 7 exterior colors are available on both Stinger trim levels.
New in the Kia Stinger color range is the amazing Ascot Green paint, which has been first introduced in the US-market last year.
3 most common questions we get asked
1. I have seen a yellow Kia Stinger. Is it available in US?
Apparently, one shipment of 400 Kia Stingers in Sunset Yellow color hit the U.S. shores a while ago. They are not available anymore.
2. What's going on with the orange Kia Stinger as seen here?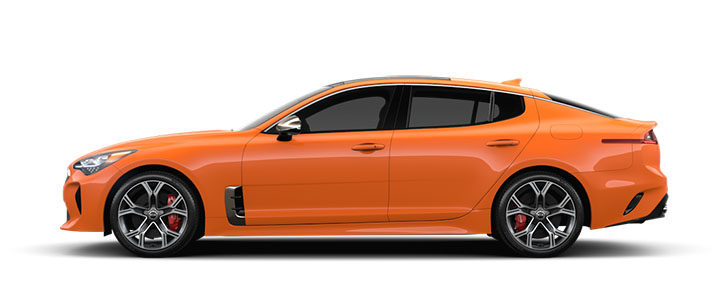 The orange-painted Kia Stinger sports sedan wasn't available in U.S. until recently. But, Kia decided to bring that spicy color to the Stinger range by launching the limited edition Stinger GTS.
With the launch of a Stinger facelift in the United States two years ago, the car's color range has been further enhanced, with the Federation Orange paint shade being discontinued from the Stinger line-up.
3. What's the color of Stinger Atlantica special edition model?
Roughly two years ago, Kia of USA also launched the Stinger Atlantica special edition model with production limited to 500 units. That particular vehicle was painted in unique Deep Chroma Blue metallic paint, which isn't available at this point.