Stinger Indigo limited edition model comes with AWD & drift mode!
In the vast majority of cases, automakers go out of their way to make a big splash when they launch a new model, but Kia Motors America have adopted a quieter tone with the release of the 2020 Stinger GT Indigo special edition model.
The latest addition to the Stinger sports sedan family is a limited edition model that will only have 500 units available to interests buyers, of which there are sure to be many.
This version of the Stinger is loosely based on the GT AWD model, but there are some very obvious differences that help set it apart from the rest of the family.
2020 Kia Stinger Indigo painted in Chroma Blue color
The first thing that you will notice is the exterior paint job, which is a rather striking exterior color called Chroma Blue.
This is the only vehicle in the Kia US lineup that has this color option, which already makes it something of a collectors item. The beauty of this shade is that, combined with the metallic finish, it seems to change color under different lighting conditions.
The color is not the only thing that sets the 2020 Kia Stinger GT Indigo Edition apart either, as it also comes equipped with custom 19-inch alloy wheels that were previously only made available in international markets.
The look of those wheels, combined with the dramatic color, will make this model stand out in the crowd, but the interior also kills it.
Brown painted interior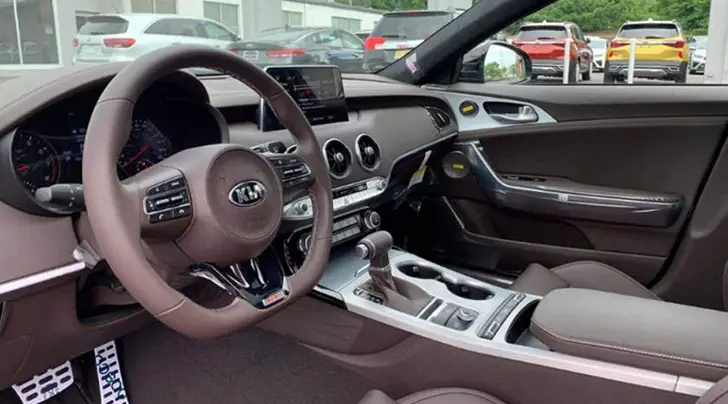 The first thing that you see when you take a peek inside this model is that it is awash in a sea of brown, which serves as the perfect complement to the exterior Chroma Blue.
From the dashboard to the steering wheels, carpeting, door panel, and steering wheel, it's all brown all the time, but it is certainly not as drab as that color might suggest. Instead, it is a warmer shade of brown that exudes a sense of absolute luxury.
Features & specs
The features that come with the Stinger GT Indigo are usually found on the higher trim levels in the Stinger family, such as the GT1 and GT2. This includes items such as the power moonroof with power shade, Chamude headliner, 8-inch infotainment display that includes navigation, wireless phone charger, and an amazing Harmon Kardon sound system that features 15 speakers.
There are some features missing in this model that are found in the GT1 and GT2 models, though, such as adaptive cruise control (regular cruise control is included in the package), power liftgate, and a power telescoping steering wheel.
Under the hood, you will find a well-known 3.3-liter V6 gasoline engine generating 365 horsepower and an 8-speed automatic transmission.
Adding to its exclusivity is an advanced version of Stinger's AWD system called dynamic all-wheel drive (D-AWD), first made available on the limited edition Stinger GTS, with capability of sending up to 100 percent of power to the rear wheels.
Kia Stinger Indigo price
The MSRP for the Stinger GT Indigo Edition is set at $45,000, but there have been reports of some dealerships offering a discount Kia Stinger price, so you may need to get a move on if you want to get your hands on one of the 500 units available.
This is an absolutely beautiful vehicle and you can bet that they will not be spending a lot of time under the showroom lights before they are snapped up.