The falcon (aka RAV4) has landed… on a brand new $50,000 worth Kia sports sedan!
Before a new vehicle is officially released, there is usually a mad scramble to get some pics that might give us a hint of what to expect.
PoPVille, a blog devoted to a neighborhood in Washington DC, got a couple of pictures of the new Kia Stinger that are unlike any other released to date.
This is because the Stinger in the shots was having its style cramped by another vehicle resting on its hood.
What makes this rather strange story all the more intriguing is that the sporty new Stinger sports sedan has not yet been released to the car buying public.
The new model was captured wearing dealer plates, and was apparently being re-located to an unknown location.
Kia Stinger accident photos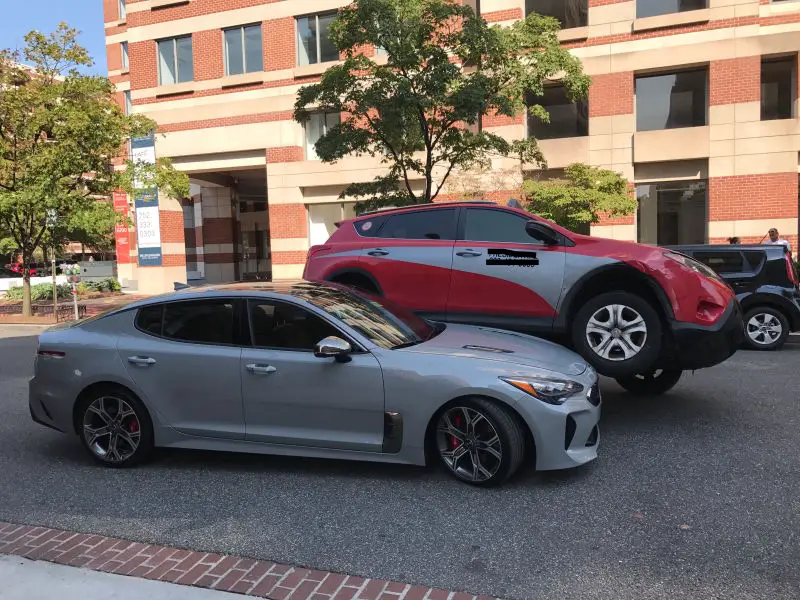 According to eyewitness reports, the driver of the Stinger had pulled over for a moment, and as he went to move back into traffic, a Toyota RAV4 taxi connected with the side of the car, eventually ending up precariously propped up on its hood.
There are probably going to be a lot more snaps hitting the internet in there coming days and weeks, as the two vehicles apparently spent a few hours locked together in this uncompromising position.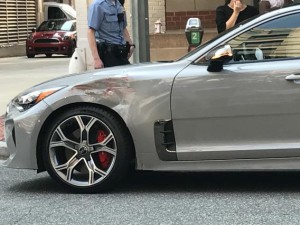 This may end up being a bit of a winning situation for the Stinger, as the amount of damage seen after the cars became untangled was minimal, which in not what you might expect when an SUV climbs up on your car's hood uninvited.
Kia has made some real strides in terms of improving the safety and integrity of their vehicles, and being able to withstand an SUV attack bodes well for the new Kia Stinger.
Stay tuned for more news reports about Kia Motors Corp & their vehicles. (Photos: PoPville, Jackie)