What to expect from the 2021 Kia Telluride (release date, color changes, dealership arrival, etc…)?
While Kia has grown accustomed to seeing their vehicles win awards, they must still be a little surprised at the speed with which the Telluride SUV is winning them.
The recent Car of the Year Award essentially proves that the Telluride is the best 3-row SUV on the market.
Our first real look at the Telluride came at the official launch at last year's North American Auto Show. It wasn't long after that the sales started racking up.
Sales have been brisk, but can the 2021 Kia Telluride continue with its torrid sales pace?
We are of the belief that it can, even without any major changes to the 2021 model.
2021 Kia Telluride: what's new and changed? (UPDATED)
The biggest addition to the 2021 Kia Telluride range is the Nightfall appearance package, which further enhances the exterior look of the boxy 3-row SUV.
There's more that's new on the 2021 Telluride, so let's have a detailed look at the changes being made for the 2021 model year.
All Kia Telluride 2021 trim levels
7 PIN trailer harness has been upgraded from 4 PIN
Remote engine start "ON" button on the remote key fob
 EX trim level
2021 Kia Telluride Nightfall Edition is available on AWD with EX Premium package
Telluride EX is now also available in Black Copper exterior color
LED headlamps are now included in the EX Premium Package
 S trim level
The Black Copper color is now also available on the S trim level
 Range-topping SX
Nightfall Edition appearance package is also available on the 2021 Telluride AWD and SX Prestige package
Sangria exterior paint has been added to the SX Kia Telluride trim and comes with either a black or gray leather
2021 Telluride release date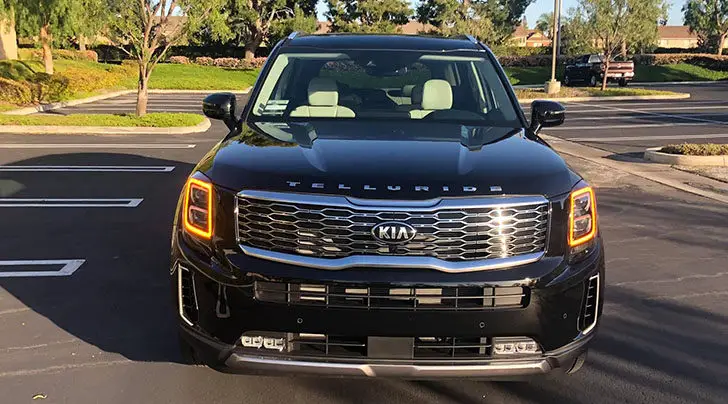 We were expecting the 2021 Kia Telluride this summer, but the current pandemic crisis means that we are more than likely looking at a delay to that release date.
It is worth noting that the Georgia plant where the Telluride is manufactured has suspended operations for now makes it clear that we should expect a later than expected arrival of the 2021 model.
Possible changes to the Kia Telluride 2021
New exterior colors could be added to the range
Modest changes to the trim levels & features will likely be made
"All black" Telluride rumors
The Kia Telluride has only been on the market for one year and is still fresh and incredibly competitive in the SUV segment. That aside, Kia still has plans to make a few little tweaks for the 2021 model year.
The exterior styling will stay as is, although there may be a few small enhancements to specific trim levels. We may also see a change in the exterior color options.
As it stands now, the Telluride comes in 4 trim levels and 7 different exterior colors. There is talk that a blue or a red option may be added, as well as a two-tone option, all of which we think would look great on an already fabulous looking vehicle.
Blacked out" 2021 Kia Telluride upcoming?
Recent rumors suggested that Kia might introduce an "all black" trim level into the mix. If that were indeed to happen, all of the chrome accents that are currently seen on the Telluride would be replaced with black accents.
Included among those elements are the alloy wheels, signature grille, side sills, and all other chrome accents. We believe that an all-black version would look very luxurious indeed.
If you want an idea of how that model might look, check out the blacked-out version of the Kia Mohave SUV, which we have featured here in the past.
Will Kia launch Telluride hybrid in U.S.?
It is more than safe to suggest that we will not be seeing a Telluride hybrid for this model year. There has been some consumer demand for a hybrid model, but we would be surprised if Kia delivered in the next year or so.
That said, Kia is certainly open to going the hybrid route, as many automakers are now doing with large SUV's. It would probably be 2022 or 2023 before Kia would deliver a model like that to the US.
Stay tuned for latest Kia Telluride news
We will keep you updated on any news and developments in regards to the 2021 Kia Telluride as we hear them.