Heavy weight capacity, 4-bicycle rack for Kia Telluride (or any other large SUV).
When Kia introduced the Telluride SUV, they delivered the largest vehicle in their lineup.
The Telluride is more than spacious enough for large families and is perfect for those that love a little adventure in their life.
Getting out into the country and hitting the trails is a perfect way to start a family adventure, which is why a sturdy 4-bike carrier for Kia Telluride is a perfect addition.
There are a lot of different options out there, but we have found an amazingly strong and well-built bike rack that will perfectly fit the bill, so let's take a closer look.
Overdrive Sport 4-Bike Hitch Mounted Rack
---
Pros
1. Easy to assemble
2. Folds down when loaded & folds up when no bicycles attached
3. Transforms from a 4 to 2-bicycle rack
4. Quality made
The Overdrive Sport 4-Bike Hitch Mounted Rack is a large rack that is designed to easily hold 4 full size mountain bikes, while keeping them separated so that no scratches or damages occur while driving.
It is super easy to load the bikes and the hitch is a great carrier for different types and sizes of bikes. It will also hold children's bikes, just as easily as it will hold larger mountain bikes with huge tires.
No special skills are required to install the hitch, as assembly is very easy. The Overdrive Sport bike hitch comes with easy to follow instructions and labeled bags of bolts for use in each step of assembly.

One of the major benefits of this bike hitch is that it folds up when not in use so that you can use your vehicle as normal.
It can also be folded down when the bikes are loaded, which makes it easy to still access the back hatch on the Kia Telluride. The hitch also comes with a locking pin, which helps greatly with theft prevention.
The Overdrive's bike rack is a sturdily built piece of equipment, so you can expect it to last a very long time. Another great advantage is that it can easily be transformed from a 4-bike hitch to a 2-bike hitch, making it perfect for couples or families!
Cons
1. It is relatively heavy (but, copetitive products are no lighter)
2. Large, so you need to be careful while driving (but, all other 4-bike racks are of a similar size)
While this is indeed a sturdy piece of equipment, the quality build also means that it is quite heavy. This is not a rack designed for compact cars or small SUV's, but it is ideal for larger vehicles, such as the Kia Telluride.
The size of the rack also means that it protrudes quite far out from the back of the vehicle. This is not necessarily a major con, but it is something that you will need to keep in mind when you are trying to maneuver your vehicle in a tight spot!
---
FAQ
Can this product be used as a 2-bicycle rack when needed?
Yes, it absolutely can be broken down this way. This is an ideal scenario for couples who like to have friends or family members come among for a bike ride.
For everyday use, the 2-bike configuration is perfect, as it makes the vehicle easier to maneuver, as well as helping save on gas.
In order to make the transition from a 4- to a 2-bike setup, a couple of bolts need to be removed and the rack split in two. This is not the easiest task, as the hitch is heavy, but the effort is worth it.
Do the knobs loosen up from all of the road vibration?
The knobs are very well designed, so there will not be an issue of them loosening while the vehicle is in motion. It's always good to double check after every few hundred miles, but knobs loosening should not be an issue.
Are you able to open the vehicle's hatch with bicycles on?
Yes. You are able to fold the rack down to the ground so that the gate can be opened. Breaking down the rack into the 2-bike setup also makes things a little lighter and access easier, but this can also be done with the 4-bike setup.
Is it suitable for bicycles with skinny / fat tires?
The Overdrive Sport bike rack is designed to fit bikes of all sizes. This really is the perfect hitch for families who might have a number of different sized bikes. You can load up the kid's bikes alongside the adult ones without needing to make any sort of adjustments to the setup.
Where else can you fit the Overdrive Sport 4-Bike Rack?
Hyundai Santa Fe
Subaru Crosstrek
Honda CRV
Kia Sorento
Hyundai Palisade
Pick up trucks (all kinds)
While the Overdrive Sport bike rack is a great addition to the Kia Telluride large SUV, it's also a piece of equipment that can be used on just about any medium- or large-sized SUV / crossover.
We discovered this by doing some research on the hitch. We saw pictures of it mounted on the Hyundai Santa Fe, Subaru Crosstrek, and the Honda CRV, as well as a host of pick-up trucks and minivans that are equipped with a hitch.
The one thing that you need to keep in mind before ordering this 4-bike rack is the maximum loading weight of your vehicle. If adding the rack will exceed that weight, then you should not be using it!
Kia Telluride with hitch-mounted 4-bike rack (pics)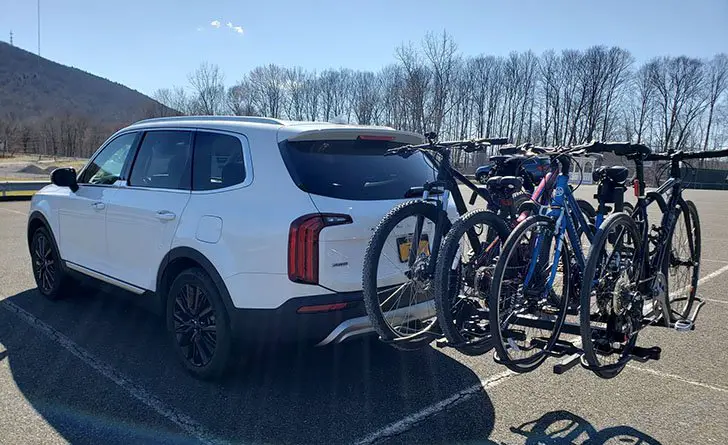 Picture 1: Kia Telluride carrying 4 different types of bicycles. This particular bike rack is ideal for transporting different types of bicycles including those fitted with "fat tires".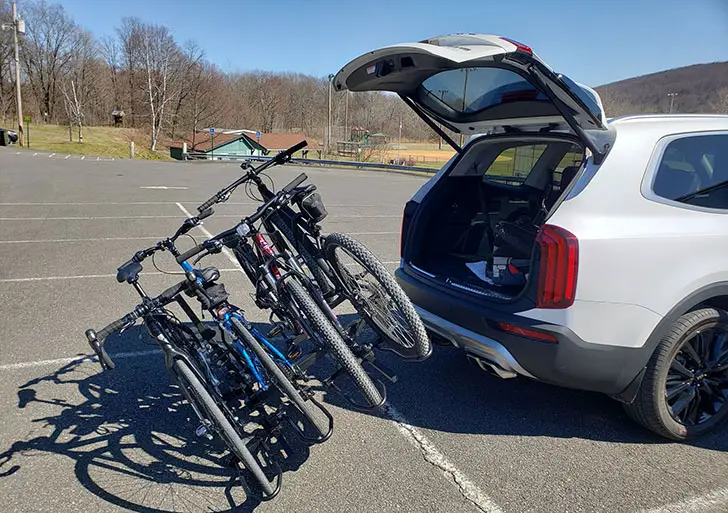 Picture 2: The hitch-mounted rack folds down even when fully loaded, so you can open the trunk hatch of your Kia Telluride.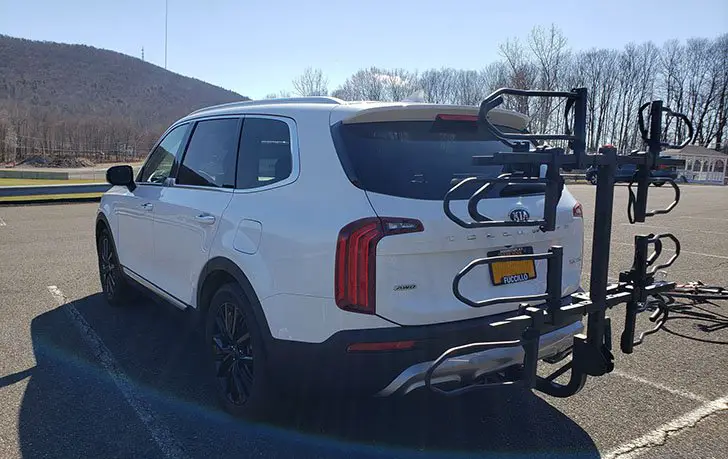 Picture 3: The Overdrive Sport 4-bicycle rack folds up nicely when no bicycles are being loaded on it.
Special thanks to Sean!
We would like to close out this Kia Telluride bike rack review by offering a huge word of thanks to Sean Rafferty!
Much of the information found here came from his particular experience with the Overdrive Sport 4-Bike Hitch Mounted bicycle rack. You can see his setup in the attached pictures.