When you think of an SUV, you very often think of a vehicle that is as luxurious as it is large. The new Kia Telluride sits at the top of the heap in both of those categories.
Armed with a stunning design inside and out, as well as a host of state-of-the-art technologies, the Telluride is making a huge splash in the SUV market.
There are a lot of things to love about this model. Including the 7 amazing exterior colors, which may explain why so many people are keen to get behind the wheel.
Before we get to the Ebony Black color, let's take a moment to catch you up on some of the other details of the new Kia Telluride.
This model is the largest that Kia has ever delivered to market, as it comes with seating for 8 and a vast amount of cargo space, making it perfect for large families with a sense of adventure.
Speaking of adventure, the AWD option comes with a locking center differential, allowing the Telluride to boldly go where other SUV's don't dare. This may be a beautiful looking vehicle, but it's one that's not afraid to get a little dirty.
With the ability to hold so many passengers and so much cargo, you really need some power under the hood. The Kia Telluride also delivers in that regard, coming standard with a 291-horsepower 3.8L V6 engine.
The cabin is spacious and filled to brimming with technology and safety features that help make the Telluride one of the best in class in the SUV segment.
2022 Kia Telluride Ebony Black
As mentioned earlier, the Telluride also comes with a choice of 9 different exterior colors.
With those looking for the luxury aspect of the Telluride, it is perhaps the Ebony Black exterior color that will be the most appealing.
We have already seen the Snow White Pearl and the Everlasting Silver, both of which are beautiful, but there is something about the Ebony Black that just makes the Telluride look sleeker and more stylish, although that's purely our personal opinion.
It was Richard C. from California who sent us these pictures of his Ebony Black Kia Telluride, with one little detail included that perhaps explains why this color looks so stylish.
Richard went with the top of the range Telluride SX, which means he was also able to get the black alloy wheels, which definitely add to the cool factor of this particular Kia Telluride exterior color.
Pictures of black-painted Kia Telluride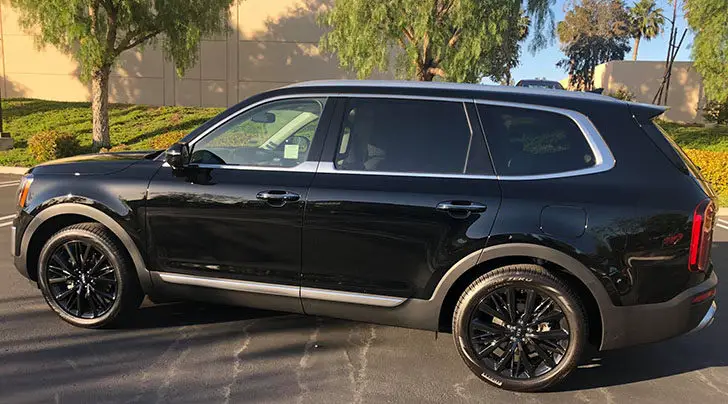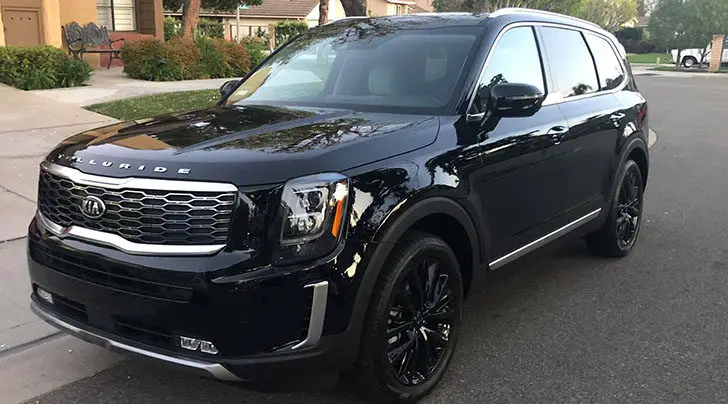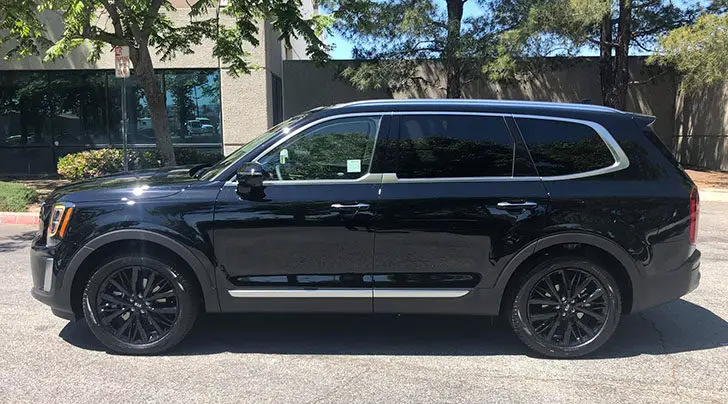 If you are enjoying our articles about the exterior colors of the Kia Telluride, we hope that you can help us by sending in pictures of your ride.
Our goal is to make sure that we show you, up close and personal, exactly how the 9 different colors look in a real-world setting.