Official Kia Telluride towing capacity figures and specs.
There is a lot to love about the new Kia Telluride, from the spacious interior to its rugged, boxy design.
This looks like a vehicle made for adventure, and with so many safety features on board, it's one that you can take off road with real peace of mind. The Telluride is also a model that packs some serious towing power.
The Kia Telluride is great as an everyday driving vehicle, providing a ton of space for larger families, but it can also do a whole lot more. As you will see from the 2022 Kia Telluride towing capacity, this is a vehicle that can make it an excellent work vehicle too.
If you are looking for an SUV that works hard while still being a comfortable family ride, this is the one for you. Allow us to tell you a little more about the towing capacity of the Kia Telluride.
2022 Kia Telluride towing capacity
The question to be answered now is how much can a Kia Telluride tow?
According to the official specifications from Kia, when the Telluride is properly equipped, it has a towing capacity of up to 5,000 lbs.
It should be noted that the number is the same across all four trim levels (LX, S, EX and SX). The same is true when the Telluride is equipped with AWD or FWD; the towing capacity stays consistent.
Owners and potential buyers of the Telluride SUV should also be aware that the 5,000 lbs of towing capability applies to trailers that come equipped with trailer brakes that have been properly hooked up! If that is not the case, then the towing capability drops to 1,653 lbs.
Does the Telluride come with a tow hitch?
LX …not standard at this trim level, but it can be added as an option for $475
S … it is the same with the S trim level as it is with the LX
EX … not standard, but is available with the Towing Package
SX … not standard, but the same details as the EX
The tow hitch is available across all trim levels, but you have two different ways in which you can get it.
1st option: If you are purchasing the EX or SX trim levels, you can opt for the Towing Package, which will see your vehicle arrive with a factory-installed tow hitch. This package delivers the hitch and a self-leveling rear suspension. Again, this option is only available on the EX or SX trim levels and comes with an additional $795 added to the original MSRP.
2nd option: If you didn't opt for the Towing Package when purchasing the Telluride EX or SX, or you went with the base LX or S trim levels, you can still have access to all that towing power. All you need to do is talk to your local Kia dealership.
Kia has made available a custom-designed hitch that can easily be added to your Telluride at your dealership. Given that it's a genuine OEM product, the hitch is a perfect fit for the Telluride, regardless of trim level. Mounted directly to the frame, the hitch comes with a mount that makes trailer wiring a breeze, and all for just $475 MSRP.
Is the Kia Telluride good for towing?
Whether you are looking to add a trailer to your Telluride for work or for some wild outdoor adventure, up to 5000 lbs of towing means that you can take a lot of stuff with you. To put that in perspective, that's enough towing capacity to pull an aluminum horse trailer with a pair of horses inside.
Kia will be the first to admit that some other vehicle in the segment, such as the Dodge Durango, can tow more weight. They will also tell you, though, that the Telluride is a good deal more refined and comfortable than the competition. As we mentioned earlier, the Telluride works just as well as your everyday family vehicle.
Does AWD help with towing?
The Telluride does have an AWD option available, which may come in handy for those of you who frequently need to drive in wet or slippery conditions. The Telluride employs and "active on-demand" AWD set-up for maximum efficiency, but it also helps power the vehicle smartly when towing.
Combined with the 4-wheel independent suspension and available self-leveling rear suspension, the Telluride AWD helps you get the most out of its towing capabilities.
Can the Kia Telluride pull a boat?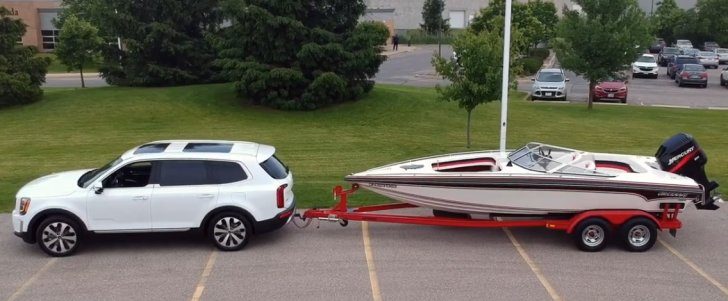 Brandtford Kia in Canada have a video that shows a boat hitched to a Kia Telluride. While it's impossible to tell the exact size of the boat, the salesman in the video claims that the telluride is fully capable of pulling boats in the small to medium sized range.
Possible to tow a camping trailer with Kia Telluride?
With a towing capacity of 5000 lbs, the Telluride is equipped to handle all kinds of different towing tasks. The video we have here shows a Telluride hauling a 21-foot camping trailer that weighs in at around 4100 lbs.
Kia Telluride is good for towing
Now that you know all about the 2022 Kia Telluride towing capacity, all that's left to do is stop by your local Kia dealership to arrange a test drive. You will quickly see that while this vehicle is powerful, it is also stylish and elegant.
While you are there, talk to your Kia salesperson about the towing specifications of the 2022 Telluride.
It's important to know exactly what you can and cannot tow, as failing to do so could void your warranty if you try to tow something that the Telluride cannot handle.