Set to make its official European premiere at the upcoming Frankfurt auto show in September,  the 2010 Kia YN has been caught while undergoing testing at the "Ring" in Germany.
The forthcoming Kia YN will be Kias first true foray into popular mini MPV segment and was designed to rival the Opel Meriva, which has been the best selling model in the segment since its debut.
The 2010 Kia YN is still shrouded in secrecy, but we know it will be built on a slightly modified Soul platform with extended wheelbase. Unlike many other models in the segment, the Kia YN will feature an attractive exterior design and a unique front fascia incorporating Kia's H-shaped signature grille.
Buyers of the upcoming Kia YN will be able to choose from a variety of small capacity gasoline and diesel engines. Making its premiere in Kia vehicles will be the all-new 1.4L diesel engine, which is currently found only in the Hyundai i20. The 90-hp diesel engine will become a standard offering in all future small and compact Kia cars, including next generation Rio hatch.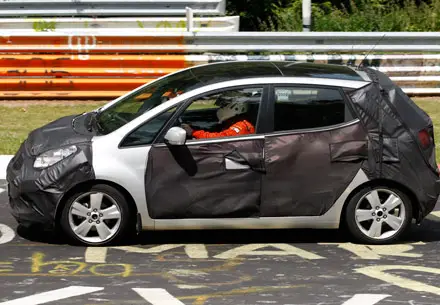 In addition to the all-new 1.4L diesel engine, the range of Kia engines will also consist of 1.4L and 1.6L gasoline engines and 1.6L diesel powerplants. All of the engines have been propelling the European cee'd hatchback and are known to offer plenty of power and great fuel consumption ratings.
Mated to the afore-mentioned engine range will be manual transmissions with five or six speeds and a four-speed automatic. In late 2010 or early 2011, Kia will also introduce its own developed dual-clutch automatic transmission and that is rumoured to be applied in the upcoming Kia YN.
Also, the 2010 Kia YN will share the eco-friendly ISG – start-stop system which is currently applied only to cee'd atchback, but it will soon spread to other Kia models. As evident from the spy shot, YN will also feature a huge panoramic glass-roof.
Meanwhile, Hyundai also announced it will develop a similar model to Kias mini MPV. Both of the models will be built at Hyundais European manufacturing plant in Czech Republic and will share core technologies, such as engines and transmissions.