First photos of the 2015 Kia Venga facelift hit the web!
It has been 5 years since Kia introduced the Venga small minivan, and they are now set to show off an enhanced version of the popular MPV at the Paris Motor Show.
The refreshed Kia Venga will look different in front and back, and will have a slightly updated cabin, as well as new alloy wheels.
Kia Venga facelift changes
The Frankfurt based European design team added the signature tiger nose grille to the front, whilst repositioning the Kia badge.
The Kia signature grille is set lower and is flanked by LED daytime running lights and fog lights.
Around back, the new LED rear clusters come with chrome trim. There are new designs on the alloy wheels, which are available in 16- and 17-inch versions.
2015 Kia Venga changes inside
Darker metal trim with bright accents can be found in the updated Kia Venga cabin.
A pair of new seat trims add a higher level of sophistication, as does the new center-stack fascia.
The new features include a heated steering wheel, as well as the latest version of Kia's audio/video navigation (AVN) system which features a 7-inch screen.
Also new are a rear-view camera, faster route calculation, and improved processing speed.
Latest news about Kia Venga: http://www.thekeea.com/category/venga/
Kia Venga engine & transmission specs
Depending on the market, the Venga will come with the option of 6 different 1.4L and 1.6L gas and diesel engines, delivering between 77 and 128 ps.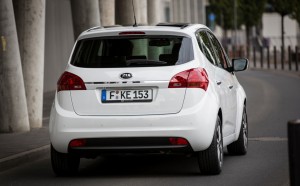 The front-wheel drive 2015 Venga will have either a 5-speed or 6-speed manual, or a 4-speed automatic transmission.
Each of the aforementioned engines will be equipped with the fuel efficient ISG technology, making them Euro 5 compliant.
Kia Venga models with ISG technology will have a CO2 rating from around 114 g/km.
The upgraded Venga will be made exclusively at the Zilina, Slovakia plant, and should be available for sales in Europe starting in early 2015.
Stay tuned for more news about Kia!