The Kia Niro concept was viewed by many as being the perfect vehicle to go up against the incredibly popular Nissan Juke.
The Niro made an appearance at the Frankfurt Auto Show and is now rumored to go into production sometime in the next 2 years.
The 3-door Niro crossover vehicle is still in the concept stage at this point, but reliable sources close to the automaker say that a production model could arrive to the market by 2015.
The small SUV segment is currently booming and Kia sees the Niro as the way to get in on that market.
Niro To Replace Kia Venga?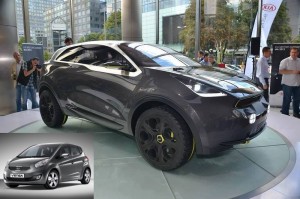 The new model would take the spot of the Venga MPV, which is, according to some rumors, not expected to be redesigned.
The Niro is similar to the new Kia Soul, which was also revealed in Frankfurt, in that it is based on a smaller version of the new Kia cee'd platform.
Turbo Engine, 7-Speed Dual Clutch Transmission
The concept car features an "innovative new powertrain", which provides power to the front wheels through the 160-horsepower 1,6L T-GDI petrol engine, while two electric motors power the rear wheels.
The show car also features Kia's new 7-speed dual clutch automatic gearbox.
If Kia Niro does go to production, the long-awaited 1,2L turbocharged petrol engine and 7-speed dual clutch transmission would likely be made available.
Styling Of The Niro Concept
The Kia Niro design style could most certainly be describes as dramatic, with a tiger-nose grille, wide-set headlights and cube-shaped quad-LED daytime running lights among the highlights.
The sporty, rugged look of the Niro continues in the rear with twin exhausts, LED taillights and a pair of tow hooks.
Wing-style scissor door open to a stunning interior that shows off a single molding for the front seats and center console. The dashboard boasts a wide center screen and rocker switches below, while a pair of grab handles has the gearbox and driving mode switches built in.
According to Kia's designer Gregory Guillaume, the Paris-Dakar rally-winning Porsche 959 from the 80's was his main inspiration when designing the Niro. He loved the super-dynamic look and wanted the Kia Niro to have a similar sensibility.
Since the Niro is still a concept, there is no official word on specs or pricing as yet.
The final production model would likely be similar in price to the Nissan Juke or Renault Captur, which would mean a starting price of around 12,000 Euros.
The top-spec trims would come with a ton of other features and options which would likely take the price close to 20,000 Euros.
Looking for more rumors and news about Kia? Follow the link here.