The Kia Soul and Sportage recently walked off with top honors in their respective segments in a J.D. Power Initial Quality Surbey, and now there is even more good news for the South Korean automaker.
A well-known German car magazine, Auto Bild, has test-driven the Kia Venga and declared it "the dream of every buyer."
This was no 10-minute ride either, with the testers taking the Venga MPV through its paces for two years and 100,000 km.
They tested the Kia Venga 1.4L gasoline CVVT EcoDynamics model and fell in love with many different aspects of the car, including its spacious family-friendly cabin, high driving position, easy entry and exit, versatile sliding rear bench seat and quiet engine during city driving.
Kia Venga Quality & Cost Of Repair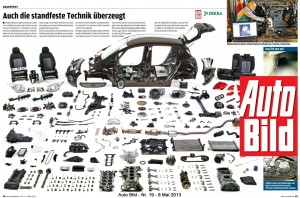 The reliability of the Kia Venga was confirmed, as the vehicle did not require any type of oil top ups between servicing.
The transmission held up really well and the brakes still had their original discs and pads at the end of the 2-year period.
At the end of the test period, a team of experts from DEKRA looked at every single component of the vehicle in minute detail, with the only problem found being a cracked front fog lamp socket. The cost of that repair was a mere €60.
Auto Bild has performed similar testing on 97 different vehicles since 2000, with the Venga placing second overall out of the 97.
Concluding its six-page report on the Venga MPV, Auto Bild stated: "The problem-free Kia Venga just runs and runs, without complaint and with complete reliability.The practical Korean car scores a dream result and its simple approach to technology makes it a role model, a new benchmark – what's not there can't break or go wrong."
When it comes to car quality, we have the Venga MPV, Soul, Sportage and a bunch of Hyundai models topping their segments.