Kia Venga images released ahead of its official Frankfurt Auto Show unveiling.
Kia has released the very first official images and details about its long-awaited B-segment mini-MPV, which will be officially unveiled at the upcoming Frankfurt auto event in September. In addition, Kia also announced its all-new model will feature a Venga nomenclature.
When Kia Venga goes on sale across Europe, it will be available with a choice of two 1.4L or a 1.6L gasoline and diesel engines. All four engines will be mated to manual or automatic transmissions and will generate from 75 to 115 horsepower.
Every single engine in the Venga line-up will be fitted with Kia's eco-friendly start-stop technology, called Idle Stop & Go -ISG system and will comply with strict EURO 5 emission standards that will go into effect in 2010.
Kia Venga is based on a slightly modified B-segment platform which is also used in the Soul crossover. With its overall length of 4,068mm, the 2010 Kia Venga is just a little shorter compared to the Soul, but features longer wheelbase. The 2,615mm long wheelbase is un-usually long for the B-segment vehicle and promisses to offer levels of interior space typical of a larger C-segment car.
Kia's stylish mini-MPV will be equipped with a sliding 60/40 split rear seat that folds flat into the floor and a twin-level boot floor. Kia Venga will also be available with tilt-and-slide glass panoramic roof and other luxuries such as heated seats, navigation system, automatic climate control and a wide-angle rear view mirror reversing camera.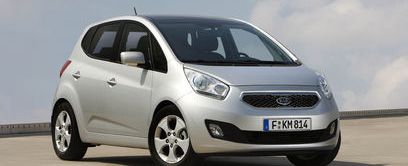 The all-new Kia Venga will be built in Hyundai's European manufacturing plant and will be marketed exclusively for European market. Depending on country, the new Venga is expected to go on sale later this year or early 2010. There are no plans to put Venga mini-MPV on sale in the States.
More images and official information of Kia Venga will be released closer to its inaugural European debut, scheduled for September 15th. Stay tuned forKia-World's complete Frankfurt auto show coverage!
Kia Venga gallery: