Production ready 2010 Kia YN spied in Spain, this time with slightly less camouflage!
The long-awaited mini-MPV from Kia, codenamed YN,  is due for release at the upcoming Frankfurt Motor Show next month. Until now, the YN has always been spotted in deep camo, which prevented us to see the styling of its front and rear fascias, but this time, it was caught while wearing slightly less camouflage.
Autoblog.es reader Tony picked up a few shots of YN while on visit in Spain. He caught a barely disguised production Kia YN with almost no camo on it's rear. This is for the first time, that the rear has been exposed to the public and from what we can see, the rear looks sporty and a bit "Audi-sh".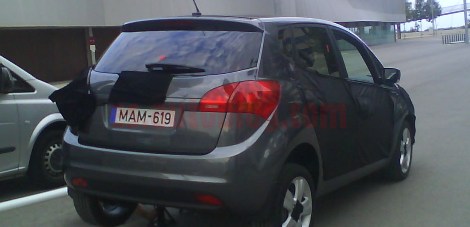 Judging by the looks of the lightly camouflaged prototype caught by a spy photographer, the production YN will stay very true to the concept car that Kia debut at Geneva auto show earlier this year. [Photosource: es.autoblog ] Find more Kia spy shots @ Kia-world.net!