If the thought of walking into a car dealership is something that fills you with fear, you are now in luck.
Auto websites are no longer just the place to go for advice and reviews, as you can now get everything from price quotes to matches with dealers looking to give you a bargain.
Some will even let you buy online and have the car dropped at your home.
This allows you to take most of the mystery out of car shopping, as you will have the same information as the dealers have.
Stressful negotiations in the showroom are quickly becoming a thing of the past.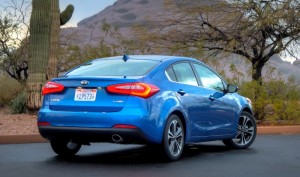 You can basically build the car you want from the ground up and negotiate a fair price without ever leaving your home office.
These sites continue to improve and offer more services, such as at TrueCar.com, where you now have the ability to post pictures of your car on line for the benefit of dealers who will then offer to sell it for you.
Here are a few of the best places to shop for cars online:
 Edmunds – This site first started out as a car pricing guide back in 1966. J.D. Power ranked it as the top site in a number of categories for those looking to shop for a car online.
Users get to choose the Kia model and trim level that they want, after which they can get an idea of the average price for that car in their area. You might just find that the Kia Optima SX that you have your eye on is selling for $23,460 in Neptune, which is less than the suggested retail price.
Once you enter your information, you can get a lock-down price from a local dealer.
Other sites that J.D. Power gives high mark to includes Kelley Blue Book, Cars.com, and U.S. News Best Cars. All of those work off the same type of principle as Edmunds.
 TrueCar went online in 2008 and has monitored millions of deals during that time. That same Hyundai Sonata SE in Neptune can be found there for $22,884, which again is a great deal. You end up with a guaranteed price, and TrueCar gets $299 for every sale from the dealer that they hook visitors. Last year alone, TrueCar helped broker more than 400,000 sales.
 Carvana is the one site that allows you to skip the dealership process altogether. Shopping for a used Kia car has never been easier, as you can browse the inventory, arrange for financing, and set up a time to pick up the car without ever seeing the inside of a dealership. They even have a 3-bay garage in Atlanta that acts like a giant vending machine. You are given a special code that opens the door to the bay where your car is housed. Pay a few hundred dollars extra and they will deliver to your front door.
Other top automobile shopping website options: Carsdirect, Autotrader, Cars.com, Autobytel, etc…