City cars have undergone a lot of refinement across the past few years, with the majority becoming smaller, cleaner, safer, more efficient and stylish.
That's not to say that if you live and work in a city you have to drive a specifically designed city car, there are plenty of other vehicles great for town driving.
Kia have produced many fantastic cars over the years, featuring a wide range of vehicles ideal for city drivers, whether your main purpose is commuting, the school run or anything else.
4 Kia vehicles we think are best for city driving
New Kia Picanto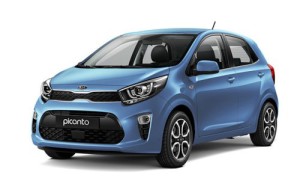 The new Kia Picanto was voted third in Auto Express' list of the Best City Cars to Buy in 2017, ahead of the Hyundai i10, Toyota Aygo and more.
This compact hatchback is incredibly spacious despite its appearance, with a better equipped interior than its predecessor and sharper looks.
Accurate steering and soft suspension make it fun and comfortable for driver and passengers alike when nipping around any town or city centre.
A range of engines are available too, with 1.0-litre three-cylinder and 1.2-litre four-cylinder petrol models, both of which provide decent fuel economy levels, though with the automatic version this drops.
CO² emissions of 106g/km make it an energy conscious choice as well.
Kia Soul EV
Electric cars are growing in stature and are most at home in city centres, where they don't have to travel too far, have a greater access to recharge points and look the part.
The Kia Soul EV is ideal for short commutes, with a range of up to 132 miles on one charge.
A full charge takes over 6 hours, though 80% can be reached in just half an hour with the fast-charging socket provided.
As a high-roofed hatchback that comes with a seven-year warranty, it is a safe purchase for those living not too far from their work.
The boxy style may not be for everyone, but there's plenty of room and four doors, great for families and car shares.
Kia Optima PHEV
Kia's first plug-in hybrid is a surprisingly powerful and stylish vehicle, one that wouldn't look out of place in any office car park.
Combining a 2.0-litre petrol engine with a 50kW electric motor, it delivers 202bhp, making it flexible for long commutes out of town into the city while being an excellent executive car too.
Low CO² emissions of 37g/km mean it is exempt from road tax when bought second hand, with low fuel costs to boot.
If buying used, remain safe by taking out car checks first to ensure the Kia Optima's history matches up with the seller's claims and there is nothing untoward about it.
Kia Sportage crossover
Not a stereotypical city car, but they seem to be everywhere these days, as a compact SUV the Kia Sportage is good for the school run or lift sharing on the way to work.
With plenty of room in the cabin and boot for passengers, equipment and more, along with a high quality interior, it feels classy just to be transported around in.
The engines may not be the most efficient for city cars, but if you only have one vehicle and split your time between city, country and motorway driving, this is a versatile option.
Conclusion
Hopefully one of these Kia vehicles suits your city driving needs, whether you're looking to buy new or used.