Dyson are a UK-based company best known for making high-end vacuum cleaners, but it has long been rumored that they are going to enter the electric car market.
That rumor has now been confirmed, as Dyson are expected to have an EV model on the market by 2020.
The upcoming all electric car will, reportedly, come with truly innovative solid state battery technology and stunning design.
The vacuum cleaners brand will be newbies to the auto industry, and many perceive the move to be a huge gamble for them.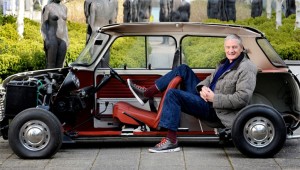 The question now is whether they can be a threat to existing car makers such as the Kia, Hyundai and others.
There are not a lot of details about the Dyson EV available at the moment, but there are a few things we do know.
Let's talk about some things for sure we know about the upcoming 2020 Dyson electric car.
1. Dyson EV release date
The first EV model from Dyson is expected to arrive in 2020, after which new models will be added to the line-up.
2. Will it be available in the US?
The US now boasts one of the largest EV markets in the world, so we would certainly expect the Dyson electric vehicle to be made available there. No timeline exists yet, so we can't be sure when it will arrive.
3. Battery pack
It will be solid state batteries that will be used in the Dyson EV. This type of battery is considered to be next-gen, and all of the automakers who make EV's have been trying to introduce the technology for a while.
The battery build is both complex and expensive, but Dyson have already stated that the battery will be ready to go come production time.
4. Size
Dyson have offered up no detail on the size or design type of their upcoming electric car, but they have said that it will not be a sports model, and it will not be cheap.
Dyson have also stated that they will not be in competition with the likes of the Hyundai Ioniq, Kia Soul EV, or Nissan Leaf.
This would suggest that they are going the luxury EV route, which would put them in direct competition with the Tesla 3 or Tesla S.
5. Price
Again, Dyson are remaining tight-lipped about the pricing of their EV, but if they do create a larger luxury model, you can expect pricing to start at around $35,000.
6. Billion $ investment
Sir James Dyson, founder of the company, recently issued a letter to employees saying that Dyson is investing 2 billion pounds in the new EV. Half of the money will be spent on the vehicle, with the other half going towards the creation of the solid state batteries that will power it.
7. 400 engineers hard at work
It's full steam ahead at Dyson, with about 400 people working on the EV project. Dyson chose now to make the news public, as they believe it will help with recruitment and partnerships with third-party suppliers.
Among the people working on the project are former high-level employees recruited from Aston Martin, including their former head of development, Ian Minards.
Will the Dyson EV be a success?
This is a new venture for Dyson, but they are already ahead of Tesla in regards that they have experience with large scale manufacturing, which was new to Tesla at the outset.
While this certainly helps their cause, they need more than just that experience to succeed in the automotive market.
The people at Dyson seem to be well aware of this, and are already developing a positive mindset.
They have admitted that they know it's a crowded market, but they also believe that they have a superior product that can do more than just compete.
Let's not forget that the vacuum cleaner market was also crowded when Dyson arrived, and they succeeded there in a big way.