Tricked-out Kia Spectra 5-door hatchback looks out of this world!
Here at theKEEA.com, we are pleased to introduce you to Mr. Muhamad from Singapore.
He is the proud owner of this gorgeously modified Kia Cerato (Spectra5).
This year, Singapore will stage a Formula One Grand Prix race, and judging by it's look, his Kia Cerato could easily be used as a pace car on that race.
1. How long have you owned Cerato?
I've owned my Spectra, or known as Cerato hatchback here in Singapore, for about coming to 3yrs. In Sg, we have this 10year lease kind of thing for cars, whereby once it's expired, we need to either 'scrap' the vehicle or renew the certificate of entitlement. Not cheap..
2. What cars did you own before?
This is my first car. But not my first vehicle. I'm also currently own a 9yr old Honda XR400R dirt bike.
3. Honestly, what was your intention when you bought your Cerato?
To be plain honest, i bought it because it was cheap. Furthermore, KIA has a promo going on around the period when i was looking for a car after i got my first baby.
I shortlisted a few budget options and decided to go for the Cerato Hatch as it seems to be most value for money. Outlook is quite good, interior is spacious and it comes with all 4 disc brakes, which is cool since i don't quite like rear drum brakes.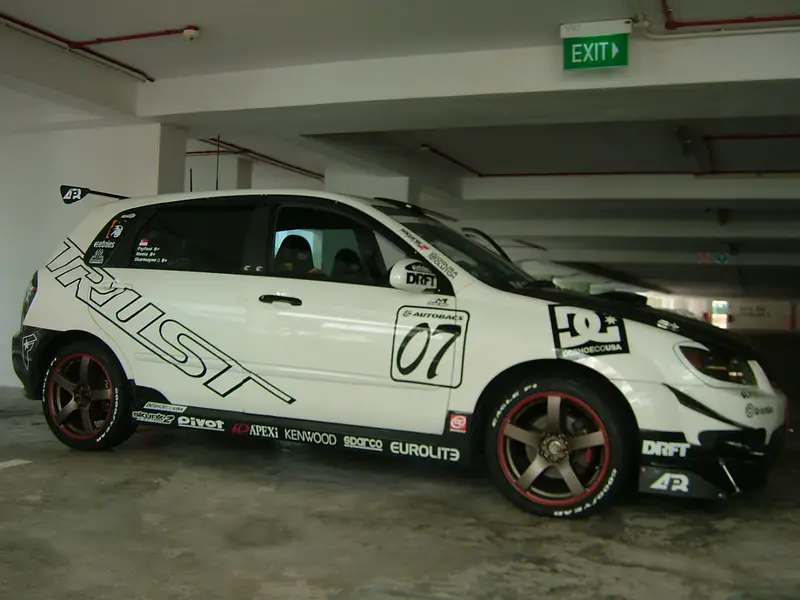 4. In a few words, describe the style of your Cerato?
Hmmm…to be honest when i first got it, I wouldn't have imagined it to look like what it looks like today. Started modding it and just couldn't stop. Basically, it's style or concept is in the line of GT and WRC rally cars but in terms of performance, it's far, far from it. Some of my friends call it Cerato GT.
5. What do you like the most about Cerato?
The Cerato (both Hatch and Sedan version) is a stable car at high speed and is quite sturdy. However, the model that the agent brings in is mainly the 1.6L version, except for a very small numbers of 2L auto version. Besides that, the look of the Cerato is quite handsome and as i mentioned before, the all round disc brakes. In fact, many other cars in the Sg market (including higher end Japanese models) do not come with all round disc brakes.
6. Is there anything you don't like about it?
The Cerato is undisputedly a heavy bodied car and when coupled with our 1.6L DOHC engine, the power to weight ratio is not so good. Especially if it's on automatic tranny. However, it's not that bad and with some minor mods, it can still be quite pleasant to drive.
7. What is it that makes your Cerato look unique?
Firstly, it's black and white (originally white). Besides that it has an urban camo-ed bonnet scoop, urban camo-ed replica J's Racing GT wing, decals and GT mirrors (I believe my Cerato should be the only one in Sg using GT mirrors, as I customised it myself). One more unique thing about my car is that quite a fair bit of the add ons are DIYed.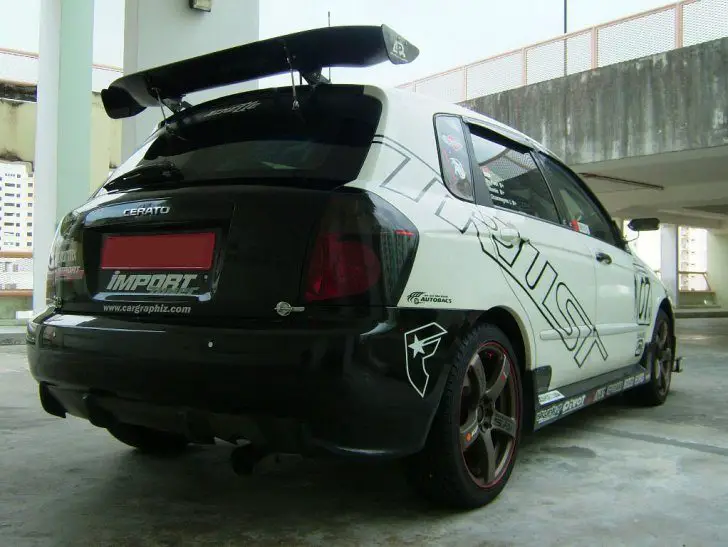 8. What accessories have you installed so far?
Really, there's not much accessories here that's meant for Cerato and for KIA cars in general. In addition to the stuff i mentioned in my earlier answer, there's nothing much else.
My car is using a Fluxion add-on body kit with added on front difussers and carnards and on 17″ 5-spoke bronze rims with Goodyear tyres. Within the engine bay, there's the main stuff are the front upper strut bar, Cusco Oil Catch Tank, Apexi Open pod filter with heatshield, Silver's stabilizer, D1 Spec spark plug booster, 10-point grounding, NGK iridium Plugs with JetRacing cables and Maximum Velocity light weight crank pulley.
For the cockpit, there's the SSCUS leather bucket seats, Autometer Air/ Fuel ratio gauge, Pivot engine starter, shift lamp, Apexi SAFC1, Sablet 3-point harness, deep dish steering wheel with ball-lock quick release bosskit and quite basic ICE setup, mainly on Sony Xplod.
9. What's next?
Well, I recently got a set of Exedy Racing clutch 2nd hand from a friend and will be fixing it up soon.
10. Who helped modify your Cerato?
As mentioned, i like to DIY on my car as much as possible, especially those for outlook. My brother would sometimes help me out. For those mods that require workshop expertise, I would go workshops, but none in particular.
11. Products of which tuning company did you use?
I got a few Apexi stuff. Other than that, nothing much.
12. How would you rate your car; on a scale from 1 to 10?
I would rate it 10/10 as I'm still loving it. Really keeps me busy and occupied.
13. How would you pimp your ride if you had no limits?
This is an interesting question. I would dump in a larger engine (at least the 2L engine), turbo charge it, lower it until it almost touches the ground, add as much carbon fibre as possible (interior and exterior), put on really big oversized brake kits, give a GT spec wide-body kit so that i can fit in the widest tyres available…and probably give it a full-body urban camo paintwork!….That would be cool!…
14. What do people say about your Cerato?
Generally, I do get good comments…from friends and even strangers. But there are some that may feel like it's overdone and gaudy. Different individuals have different taste, so I respect their views. I believe in this saying "To Each, His Own"….
15. What would you advise to Kia owners who might be looking to customize their cars in future?
It depends on what they are looking at..All out performance, outlook, eye-catching, subtle etc. Since there are not much accessories specially made for KIA cars readily available here, they have to use some ingenuity and creativity to make their ride stand out. Of course, it would help a lot if you got lots of cash to spare!
16. Do you see yourself as a Kia owner in the future?
There are thoughts of not getting another Kia after my Cerato, mainly because of the difficulties to get accessoriesand poor resale value. However, after looking at the cool new upcoming Kia models like the Ceed and Pro'Ceed and even the concept cars (which are really cool btw!), i can see myself owning another Kia in the future!