The latest in our Kia owners interview series is a little different than what you have come to expect in that it does not focus on a current Kia model.
Gavin, a 34-year old father of two from Utah, is the proud owner of a Kia Spectra5 that has been in the family for 9 years.
He confesses to loving his first Kia model, and he has gone out of his way to make upgrades and enhancements that truly make it his own.
The Spectra 5-door hatchback has served him well during that time, with most of the work done on the vehicle being of the aesthetic variety.
Gavin gets a lot of compliments on his vehicle, but he does also get some negative feedback, which he believes is something to be expected when you are putting together a build that is truly personal.
He has joined a couple of Kia clubs to show off his car, and it's there where his tricked out Kia Spectra gets most of its love.
Gavin has a Kia that has a one-off Halo EFX dip color on it, and he has added a carbon fiber hood, gold rims, and an iPad mounted in the dashboard.
He has also installed a ton of accessories to give the Spectra a sportier look, but admits that there is still more work to be done.
If you want to learn more about this cool ride, the changes made to it, and the ones that are still to come, be sure to read the interview in its entirety.
Kia Spectra5 specs & info
Engine: 2.0 4-cylinder
Color: red
Year: 2006
Model: Spectra5
MPG: 25 city 33 highway
Kia owner Q&A
1. Tell us something about your Kia Spectra5 ownership experience.
I looked for a Spectra5 for about 6 months and it's what I wanted. It's been a great car no major issues with it be really reliable.
2. How long have you owned your ride?
9 years.
3. Honestly, what was your intention when you bought your Kia Spectra?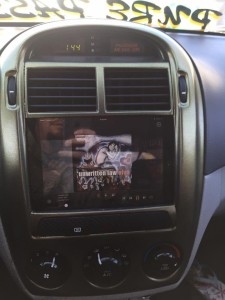 I wanted to modify something that no one would think of doing. I like to be original.
4. What do you like the most about the car?
The room it has for being a hatch back. You can fit 3 people in the back with no issues.
5. What do other people say about your Kia car?
People say that it is something they would not expect to look like it does. I get a lot of hate and a lot of complements about it.
But you have to take the good with the bad. I didn't build it for them I built it for me.
6. What is it that makes your tricked out Kia Spectra look unique?
My Kia has a one off Halo EFX dip color on it. I also have an IPad in the dash. It has gold rims and a wrapped carbon fiber hood.
My car is very unique from a lot of other cars out there and it's all done by me.
7. What Spectra5 accessories have you installed so far / do you have any future plans?
Installed:
Meagan Header and downpipe
Megan Coilovers
Colt Cams
Magnaflow full exhaust
18 in ADR Sokudo Wheels
K&N Typhoon short ram intake
Memphis audio 10 in subwoofers
6 in Memphis 3 way speakers in the rear
5 ½ Memphis component speakers in the Front
5000 watt MB quart 5 channel amp
Sound stream audio processor with Bluetooth
IPad mini in the dash
Halo EFX customer dipped
Vinyl wrap black rear side panels and lower parts of the doors
Carbon Fiber wrapped hood
Future plans
I am going to put on an air ride suspension this summer.
I am going to take off the Carbon Fiber wrap on the hood and put Matte black to match the roof.
Thanks for sharing your thoughts with us Gavin! Keep up with great work & have fun modifying your Kia Spectra5!