For the latest in our series of interviews with Kia owners we head to Lake Norman in North Carolina, where David Harris resides with his fully loaded Cadenza.
While most of our previous interviews have been with younger drivers looking for a new car they can modify, this one is with a 60-year old man with an eye on luxury.
David freely admits that he has always had a deep love for cars, with more than 30 different vehicles owned over the course of his life.
Those cars have run the gamut from low-priced junkers to high-end luxury vehicles such as the Lexus SC430 convertible that he considers to be his second car.
"Kia Love"
David's first experience with Kia came when he purchased a 2011 fully loaded Optima, which was a car that absolutely sold him on the brand.
As much as he loved that car, he knew that he wanted to get behind the wheel of the all new Kia Cadenza.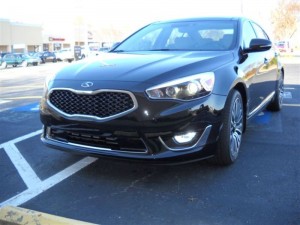 The fact that the Kia dealership made him a great trade in offer made it a little easier for David to hand over the keys of his Optima in favor of his Cadenza premium sedan.
David went with the sleek Aurora Black exterior paint color, opting for the White Interior Trim Package, too.
The car has certainly turned some heads, and while he only has 500 miles on the odometer, David has never doubted his decision to make the change.
Read on to hear more about David and his experience with Kia.
1. Can you please share with us some of your thoughts about your new Kia Cadenza!
I am a long time car lover, and, this is my second Kia. I first purchased a 2011 fully loaded Optima and loved it from day one.
I am 60 years old, and, to the best of my memory, I've owned nearly 30 cars, low end to high end including Lexus. In fact, my other car is a Lexus SC430 convertible.
My car is "Aurora Black", with the "White Interior" trim package, and technology.  I have the 19 inch wheels, the standard engine, and so far with 500 miles on the odometer, I am averaging 19 to 20.5 mpg in mostly city driving ( I'm retired).
"Performance wise, and appearance wise, I have no complaints and love the car."
My only disappointments are the lack of a cooled passenger seat, and, the constant requirement to acknowledge the 'I Agree' disclaimer notice on the LCD info screen.
In fact, I called Kia Preferred Customer service at 855 542 7733 today to register these concerns; they are very eager to hear from Cadenza buyers and promise to investigate, get answers, and contact me with their answers. I honestly urge anyone to share their likes and/or dislikes with this group to help all of us.
2. What do you like the most about your new Kia ride?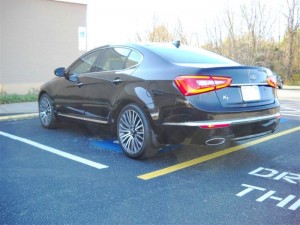 My favorite things about the car's looks are it's long wheelbase, perfect use of chrome, and front and tail lights.  I also love the NAPPA leather and the fact that it is one of the quietest riding cars I've owned.
In short, I love it and everyone who sees it cannot believe how Kia is stepping up their game.
3. What do other people say about your new Cadenza sedan?
I have had people stop me to ask about the car; walk up to me in parking lots, and also ask me what the car is while stopped at a light.  All raves and thumbs up from everyone; this car gets noticed and stands out!
4. Tell us something about your car buying experience at your local Kia store!
I bought my fully loaded Cadenza October 2, 2013 and traded my Optima.
At trade in, I had just 5000 miles on the Optima and still loved it, but the Cadenza had really grown on me, and my dealer made me a terrific deal on the new car price, and, my trade value.  So, I happily made the deal.
5. What aftermarket accessories have you installed so far / do you have any future plans?
So far, my only 'mods' have been to add the 3.0 K emblems 7 piece set, remove Cadenza from the trunk, and replace that with the K 7 emblem. I have also tinted the windows, which gives it an even more sleek look, and added Karbon Koncepts LED fogs that are much whiter and brighter.
Image Gallery Of Black Kia Cadenza