In most cases, only people with exceptional credit will qualify for a 0 down lease on a Kia automobile.
As with any type of financing program, there are both advantages and disadvantages that must be considered before taking advantage of these kinds of lease deals.
The following information will give you some insight into the requirements necessary for these leases as well as the benefits and possible downsides to the program.
Qualifying for 0 down Kia lease programs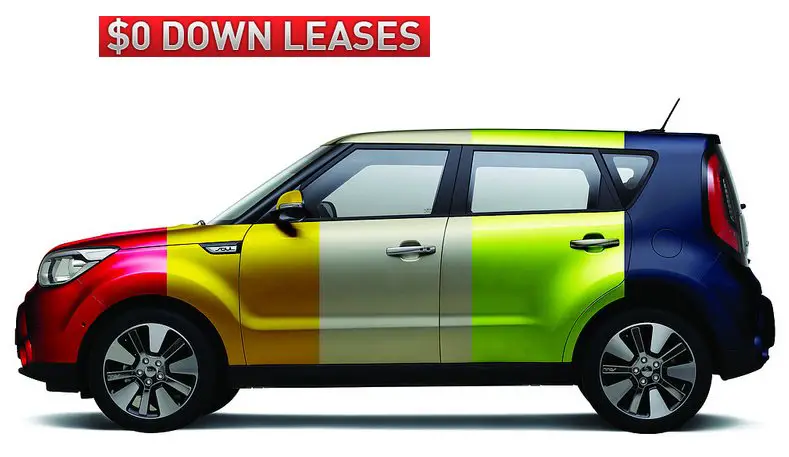 The majority of car dealerships have leasing offers for people with high credit scores that do not require a down payment.
These offers are often referred to as a 0 down lease or a "no money down" lease.
As a general rule of thumb, you will be required to have a credit score of at least 700 in order to qualify for most of these programs.
You should also pay less than or the exact Kelley Blue Book value for the vehicle in these situations.
Otherwise, it may be more difficult to find a lender who will agree to enter into a zero down leasing agreement with you.
Your chances of qualifying for this type of lease improves significantly if you have a trade-in. This is because the dealer will be able to alter the amount of money they offer you for the trade to make the deal more beneficial for them.
People who have low credit scores will have a harder time trying to get one of these "no money down" lease deals.
Even if successful, these Kia car buyers will usually be required to pay a much higher rate of interest than those who have a higher credit rating.
To help increase the likelihood of obtaining a lease with no down payment, buyers with bad credit should consider having a co-signer enter into the auto lease with them. It is also a good idea to work on resolving the negative accounts that appear on the credit report.
General requirements of zero down leasing
To begin the process of setting up a 0 down lease for your automobile, you will need to complete the dealership's basic paperwork. This also involves supplying the lender with your most recent pay stubs or tax returns.
You would be well-advised to look over your credit report before starting this process in case there are any errors or unresolved issues that you need to deal with beforehand.
Information such as the car model, year, VIN, purchase price and mileage will also need to be supplied to the lender.
Some lenders may also require that you have the vehicle's title and proof of car insurance as well.
Disadvantages of "no money down" leasing offers
The obvious advantage of these lease deals is that you do not have to worry about having to pay a large down payment out of pocket when leasing a car.
However, there are disadvantages to these programs that you should be aware of.
Automobiles are known for their fast rate of depreciation.
Because of this, many people who enter into car leasing programs find themselves upside down on their loan. This means that the amount that is still owed for the vehicle is more than its value.
This can spell trouble if you ever want to trade the car for a newer model.
Finding the right 2022 Kia lease deal
A good way to find out if you qualify for this kind of program is to use one of the many leasing calculators that are available online.
You will be able to enter your information into the calculator and find out which leasing options would be the most suitable for your situation.
Keep in mind that a leasing calculator can only give you a general idea of what your monthly payments will be.
Automobile lease programs that require no money down are a great way to get the car you want without spending a large sum of money upfront.
However, it is important to understand the requirements, risks, penalties and restrictions associated with these programs before signing on the dotted line.