Kia is certainly not going to be the first manufacturer that you think of when someone talks about modification, but the South Korean brand has made leaps and bounds in popularity in recent years, and more and more people are starting to notice.
Naturally, this means that some will be looking to upgrade their Kias, both with aesthetics and performance in mind.
Here we're going to take a quick look at what the major options are, and what you're most likely to see.
Remapping
The most popular modifications we're going to be seeing will be remaps, because they're so straightforward and widely available.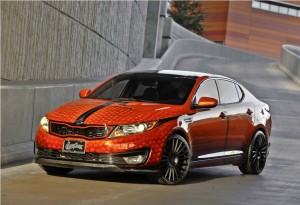 These ECU flashes are most effective on cars with forced induction, which means that the many diesels offered in Europe and much of the rest of the world will be prime candidates for basic modification.
Vehicles such as the Kia Sportage already boast decent power figures from the larger capacity diesel engines offered, and with a remap they should be offering strong performance too.
The Cee'd and Pro Cee'd GT is definitely going to be the most popular car for remaps however, as power can be taken from 201 horsepower to a respectable 240 horsepower very easily indeed.
That puts it more in line with some of the other hot hatches on the market.
Adding Forced Induction
Turbo kits are probably the other modification that will prove popular, mainly because there are a variety of universal ones available, and Kia-specific tuning parts are certainly not common at all.
Indeed, there have already been people essentially creating their own version of the engine found in the GT models by adding aftermarket turbochargers to the standard engines.
It comes at a reliability and efficiency cost of course.
If you're looking at purchasing a Kia in the near future, with a mind to adding some performance, then do consider what your tuning and modification options might be (bearing insurance in mind too).
You're not going to find a wealth of aftermarket products just yet, but that doesn't mean to say you can't get a little more performance out of the car.
It's worth noting however that one of the major benefits of owning a Kia is their very long warranty period, and this may be voided by modification.
Of course, the long warranty does at least give you peace of mind that the car should be very reliable even with some tweaking.