Did we just see the production version of the Kia GT 4-door sedan for the very first time?
Published here are exclusive spy photos of a mysterious car prototype, which has been spied testing on public roads in South Korea earlier today!
Spotted running in a small group of Hyundai vehicles, the heavily-camouflaged 4-door sedan appears to be an upcoming vehicle of Hyundai-Kia Automotive Group.
At this point, it is not known whether the vehicle belongs to Hyundai or Kia brand.
Both options are possible, though!
Kia, Hyundai or Genesis spy shots?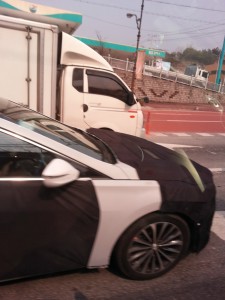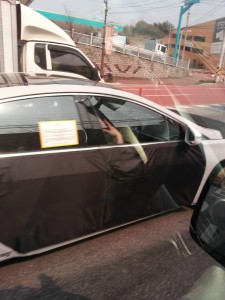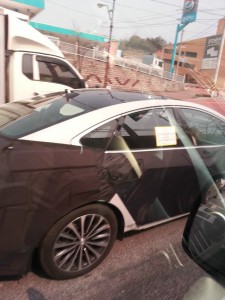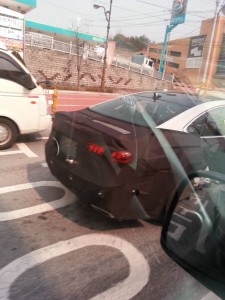 Option 1: Hyundai's BMW 3-series rival
Hyundai has been rumored of being in the process of developing a sub-Genesis sedan, which will take on premium rivals, such as BMW 3-Series, M-B C-Class and Lexus IS.
Codenamed RK (internal development code), the automaker's upcoming entry-level RWD sedan is expected to incorporate Hyundai's latest "Fluidic Sculpture 2.0" styling DNA and will make its official domestic market premiere in the first half of 2015.
A few weeks ago, Hyundai Motor America CEO Dave Zuchowski confirmed a third premium sedan could be joining the Genesis and the Equus in as little as two years!
Option 2: Production-ready GT 4-door sedan
These could also be the first photos of a production-ready Kia GT sedan, which was a huge hit of the Frankfurt Auto Show in 2011
The latest rumors coming from the sources close to the Korean automaker suggest that the GT will finally become a production model.
The reports go as far as claiming that the production version of the GT will hit the showroom floor within the next 12-15 months! [Photosource: bobaedream.co.kr]
Your thoughts about our latest spy shots?
You have heard our thinking. Now, we are kindly asking you to take a look at the spy images of the near future Kia (or Hyundai) sedan and tell us what you think!