The latest in our series of interviews with Kia automobile owners takes us to Fort Lauderdale, FL.
Casey works with the family business, making swimming pool vacuums along with his wife and other family members.
When he isn't thinking about cleaning pools, Casey spends time detailing and cleaning his 2011 Kia Optima SX.
Casey has had a number of different vehicles over the years, always choosing cars that he can modify to make a little more unique.
Among his favorites was a Chevy S10, as he was able to make that ride truly his own. As the truck got older, though, he couldn't see putting any more money into it, so he turned his attentions towards a 4-door sedan, with the Optima SX his vehicle of choice.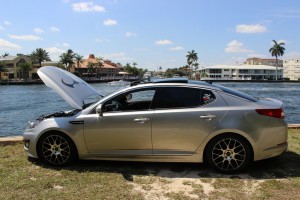 To say that he is happy with that decision is putting it mildly, as he describes it as the best car he has ever owned.
Casey took a 3 hour hike to a dealership in Fort Myers to get the exact car that he wanted, and he hasn't looked back since.
He loves the sporty styling of the Optima, as well as the kick of power that he gets from the engine.
This is a vehicle that delivers everything he needs and more.
Kia Optima SX Q&A, Specs, Aftermarket Accessories
1. I  own a 2011 Kia Optima SX, my experience with this car so far has been hands down the best vehicle I have purchased and owned.
I went to the kia dealer 3 hours away from me in Fort Myers :Kia Airport:. just to see and test drive the exact model I wanted and I came out of the dealer a happy customer, every since I left that dealership  I haven't been more pleased with the overall car it is everything and more than I expected form this sporty sedan.
2. What I love the most is what people say about my car, I actually removed all the kia badges from the car and replaced them with custom batman badges, or known as emblems I love they way it looks and no matter what tm of day it is or where I am stopped I am allways getting asked what kind of car is that?
My reply is simple the worlds best kia! of course as soon as I say "KIA"  they want to know more and more so I am all willing to tell them about it, I love getting attention and love to be able to tell everyone what a great car this is and how unique you can personalize it to make it your own.
3. I have owned my ride for a good 4 months now…and the car feels just as good as the day I bought it.
No major issues at all and the little issues were taken care of without no problems the service centers are very knowledgable and friendly…I plan on keeping this car for a very long time!!!
4. My overall intention of buying a Kia at first was kind of hesitant. I researched other vehicles for a while and I kept on coming back to the Kia.
I personally haven't seen one on the road when I started looking for a sedan but I saw it on there website and I was truly amazed at the overall appearance and interior was very well thought out, not to mention there 274 HP model which when I was looking was a big factor in my purchase.
I wanted something sporty that was a sedan and had some punch to it and punch it has!!
5. What I like most about my ride is the styling of it. Everything from the outside in is very sporty and aggressive looking.
I like that I can take my car out anywhere and know that its a kia and im proud to own it! But I do also like the turbo lol. When you need ot the most its always there never lagging behind!!
6. What makes my car so unique is the way I have stylized it. I have replaced all the badges and have done so any modifications.
I like to do things in a way that  makes me stand out from everyone else and I believe I have achieved that with all the upgrades and modifications I have done.
More Kia Optima Accessory Photos
7. Installed Optima accessories and modifications are as follows:
– batman custom badges
– led switchbacks
– led turn signal bulbs
– led rear bumper reflectors
– ex led 6000k dome lights
– 50 watt cree reverse lights
– stage 1 license plate bulbs
– custom dual pillar pod/ boost/vac..air/fuel ratio
– 18×8 niche circuit sport rims
– 235-45-18 bf Goodrich sport comp2 tires
– megan lowering springs
– Ark dts catback exaust polished tips
– K&N air intake system custom made by :gunmetal:
– btrcc weapon r spec oil catch can-intake side
– btrcc sterlin tune module
– hks m45xl spark plugs
– hks ssqv version 4 blow off valve
– throttle body spacer 2 thermal gaskets
– led cree fog lights
– turbo badge
– Hid 8000k lows, Hid 8000k fog lights
– Painted engine cover
– Throwdown performance windshield decal
– Custom batman hood graphic to match badges
– K5 tire caps
– Vms racing dress up kit
Yes its a pretty long list lol.. but every Optima accessory that has been installed has been done very carefully, and I am very pleased with the outcome of my progress.
I still have a few more things I will be adding in the future, such as a upgraded intercooler, nitrous, strut bars and coilovers,  but I do want to say one thing and I want everyone to know that I couldn't have done a lot of these mods without the help of a good friend / business owner, his name is David and his business is the K5 Optima Store.
Without the help of him I wouldn't be where I am currently, he is a good friend who isn't there just to take your money even though he does take mine!
He's there to give us support and help we need with our cars so I wanted to give you David a well deserved shout out and thanks again for helping me progress where I am today with my car!!!
Also I want to thank the guys over at Optima forums! They have been so helpful with installation and knowledge wise, I cant say enough that the optimaforums is hands down the best forums I have been on…thanks guys for giving me ideas and all your inspirations you all rock!!!
Optima SX Specifications, Information
Model:2011 Optima SX Navi/Tech package fully loaded leather seats
Exterior color: Bright silver color
Engine: 2.0 turbo
Tires: 235-45-18
Average mpg: Between 18 and 21
Miles driven so far: I have driven about 10K miles so far currently at 47K