Subtly refreshed 2021 Kia Rio to go on sale in the US-market this year.
In the early part of the year, we got our first glimpse at the soon to be released Kia Rio.
The facelifted model was first seen as a prototype, but the covers are now off the 4th-gen 2021 model revealing enhancements inside and out, as well as a new mild-hybrid powertrain.
For now, it is only the European model that has been unveiled, but we believe that the changes will also be found in the Rio5 hatchback and Rio sedan sold in the United States.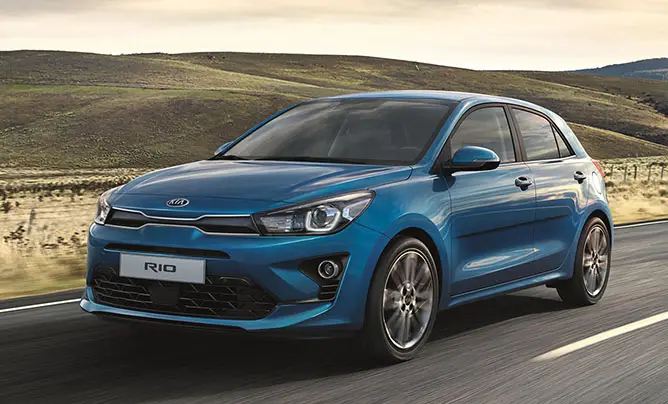 Minor styling tweaks & new exterior color options
The new Kia Rio comes with some changes to the front end, including full LED lights and a narrower tiger nose grille.
There are a few more little design tweaks designed to give the vehicle a cleaner look. There will also be two new exterior colors – Perennial Grey and Sporty Blue – added, as well as new 8-spoke 16-inch alloy wheels.
On the inside, the facelifted Kia Rio gets a serious upgrade, including a 4.2-inch high resolution digital instrument cluster and an 8-inch widescreen infotainment system.
Kia has also added a new blue color pack that features colored dashboard and door armrests and seat bolsters, which are offset by contrast stitching.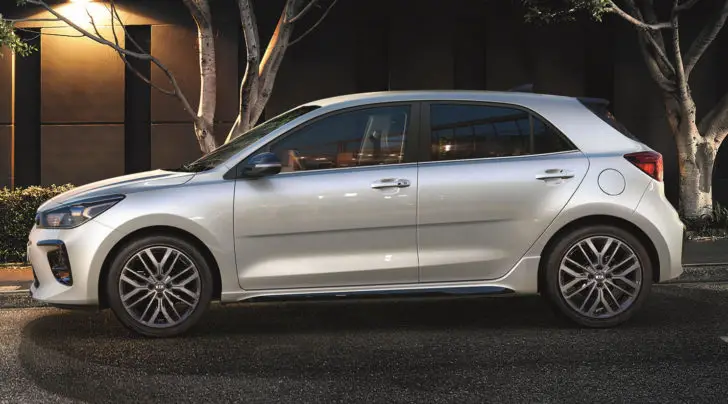 GT-Line models have the option for a black single-tone interior with white accents that include piping and seat stitching, as well as a cool carbon fiber effect used on the dashboard.
Both standard and GT-Line models with driver seat height adjustability, as well as an option for the same with the front passenger seat.
2021 Kia Rio MHEV (mild hybrid tech)
It is under the hood where the biggest changes can be found.
Kia will have the Rio be the first of their vehicles equipped with the mild-hybrid setup, which pairs their new Smartstream 1.0-liter turbo GDi engine with a 48 MHEV system designed to improve fuel efficiency via regenerative braking and electric torque assistance.
The recently unveiled Hyundai i20, which is unfortunately not on sale in the US-market, also employs this system.
The output for this system comes in at 100 hp and 120 hp, but there is also a 16% increase for the 120-hp variant. As per NEDC ratings, the new setup reduces emissions by something in the region of 8.1% to 10.7 %
Besides the mild-hybrid setup, Kia will also offer a new 100-hp 1.0-liter T-GDi engine as well as a naturally aspirated 1.2-liter engine with 84 hp in the 2021 Kia Rio.
The turbo setup comes with a 6-speed manual transmission as standard, as well as an optional 7-speed auto dual clutch transmission.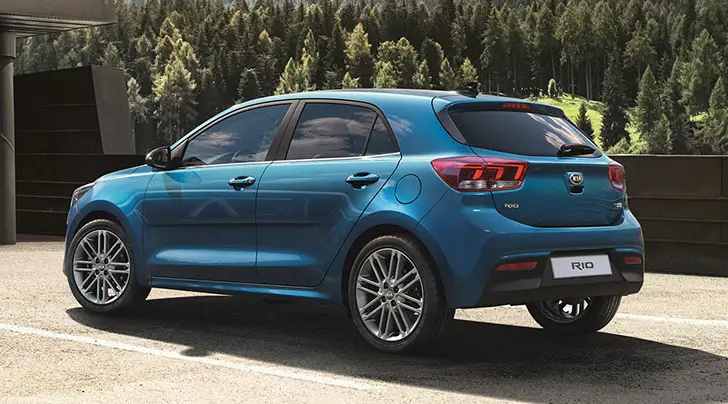 2021 Kia Rio gains upgraded ISG
More fuel savings will come via Kia's upgraded Idle Stop & Go system, which is engaged when the brake and clutch pedal are depressed, and the engine turned off once the vehicle comes to a stop.
Everything reverts back to normal when the engine switches back on and both pedals are released. Formerly, it was the clutch that linked this system, but now it is the brakes.
Enhanced safety features of Rio facelift
New safety assist features have been added to the Kia Rio facelift, including forward collision avoidance system, as well as an available blind-spot collision-avoidance assist, intelligent speed limit warning, smart cruise control, lane following assist, rear cross-traffic collision-avoidance assist, and rear occupant alert.
The refreshed Kia Rio is expected to go on sale in the US-market during the third quarter of this year. We will let you know all the 2021 Kia Rio US pricing and availability details as soon as we know them.