Exclusive interview with the owner of a brand-new Kia Sedona MPV (2015 MY)!!
We really enjoy bring interview exclusives to you guys, such as the one we recently conducted with one of the first owners of the Soul EV in the USA.
We have another great one for you here, as we were able to talk to one of the first owners of the 2015 Kia Sedona minivan.
They were more than happy to talk about their ownership experience so far.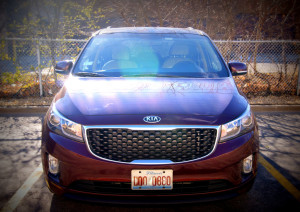 Our owner is a Dialysis Technician from Chicago whose previous vehicle was a 2011 Kia Sorento AWD.
With trust in Kia fully established thanks to that previous ownership experience, he decided to go with the 2015 Sedona EX (complete with Premium Package) when it came time to trade in.
The Black Berry exterior color (he nicknamed the vehicle SpicyRed) and the 3.3-liter V6 GDI engine were very much big selling points.
The feedback he has received from people so far is surprise that they are looking at a Kia, and total shock when they hear that it's a minivan.
This is because of the European-inspired CUV style of the vehicle.
That proved to be another selling point, as did the interior, which maintained the cargo and passenger functionality you would expect from a van.
He has only made minor tweaks to the vehicle so far, but expect more to be on the way. Read on to hear about what those changes may be…
2015 Kia Sedona EX Specifications
engine: 3.3L V6 GDI
color: Black Berry
trim: EX with Premium Package
model year: 2015
tire size: 235/60/18
average mpg: 21
miles driven so far: 1,300
 
Sedona Owner Q&A
1. Tell us something about your Kia car ownership experience?
Challenging, I love to be the underdog and I believe that KIA has a vision to innovate things and improve things to stand up against its competitors.   
2. What do other people say about your car?
It's all new model, new face and not yet common to see anywhere else.
Their first impression was speechless and they keep asking "Is this KIA?". It's nice and looks good they added.
All I can hear from them is the word "this is nice one"…And they did realize that KIA is something not to be under estimated because there designs are eye catching with good value for the money.
3. How long have you owned your ride?
For 2015 Sedona, about a month a half.
4. Honestly, what was your intention when you bought your Kia?
At first, owning KIA four years ago was kinda experimental and challenging to me despite of the feedback from fellow owners with having other brands.
But Hmm, what I saw in Korean cars, they are more on technology. They love to combine that. I simply imagine how they made Samsung mobile phones.
My intention is simply to prove them that KIA has more value and has a quality.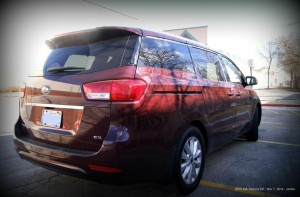 5. What do you like the most about your ride?
The space, smoother ride, solid built and for being versatility.
6. What is it that makes your ride look unique?
An MPV with SUV dash impression. Interior wise, I can't deny that is a Minivan, but if your driving it, is no more no less like advance Sorento.
The exterior is eye catching, Masculine in front and more stylish on it's rear. The floating roof design perfectly complements with its upward rear window which I found it appealing and attractive. 🙂
7. What accessories have you installed so far / do you have any future plans?
First week, I replaced the center caps into black Kia center caps. That's it so far for now.
I'm looking for a decent cross bars. A chrome window sills and chrome handle catch. A 19″-20″ wheels are always my option.