There was more to the unveiling of the 2015 Kia Sedona at the New York International Auto Show than most people were aware of.
The redesigned Sedona minivan represents the final refresh of the current Kia line-up, with Chief Design Officer Peter Schreyer once again at the heart of the redesign.
In between showing off the new Sedona, Schreyer took some time to answer questions about the new vehicle, which included clearing up what it should be labeled as.
It's a MPV, Not a Minivan
The first thing that Mr. Schreyer addressed was what type of vehicle the Sedona should be considered, insisting that it's an MPV, and not a minivan.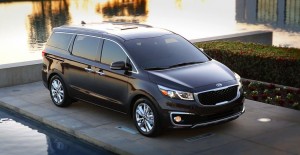 Once that was out of the way, he spoke about how he had recently had the chance to get behind the wheel of the great looking new Kia MPV.
Sure, he may be a little biased, but he admitted that he was more than a little pleased with the premium feel, both inside and out.
Design Based On KV-7 Concept Vehicle
When asked about the thought process that went into the redesign, he took time to talk about the inspiration delivered by the KV7 concept car that appeared at the Detroit Auto Show a couple of years ago.
That vehicle was used as the base, but the designers were aware that more space and features were required, which resulted in the Sedona being made a little longer than the concept.
There were definite elements of the concept that could not be carried over to a production model, but the designers found ways to incorporate the spirit of the concept.
The newest Kia models have all adopted the iconic Kia Tiger Nose design, but Schreyer spoke a little about how proportions played a role in the final design on each.
He emphasized the importance of adopting that same design on each Kia model, as it has become incredibly recognizable as part of the brand.
He suggested that one way to make the design look perfect for each different sized vehicle was to employ a cool headlight design or add a little width to make it more in tune with the overall aesthetic of the vehicle.
He also spoke about how two different grilles exist for the Sedona, each of which uses different textures. One of those looks remains hidden away for the moment.
Much of the talk about the new Sedona has had to do with how it looks more like a crossover than a traditional minivan.
Schreyer explained that the decision to make it look that was one that was very much intentional. He wanted to get away from the feeling that the Sedona had to look and feel like a minivan, as he believed it is a lot more functional than that.
That meant designing a vehicle that had everything you would expect from a van, but which also came with the stance and versatility of an SUV.
In short, Kia designed the type of vehicle that he would love to drive.[Source: Complex.com]