Some of the coolest car key chain designs you can buy today.
One of the things that is so appealing about the Kia Soul is the ability to accessorize it and make it totally fit your style.
This is a compact car that looks incredibly cool in its own right, but it gets even cooler once you start adding your own little personal touches.
If you are one of those people who loves to do that sort of thing, then you probably want a little something that proves you are a proud Kia owner, even when you don't have the vehicle right next to you.
A proper Kia Soul key chain is one way to do that!
Let's have a look at what kind of key chain styles and designs are available to purchase online today.
1. Genuine Kia Soul Keychain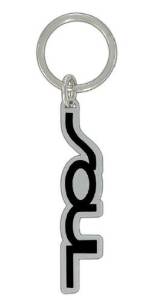 .
.
This could very well be your first ever Soul accessory. This key chain is a genuine OEM part from the Kia Motors brand.
It features exactly the same type of a Soul logo as found on your car.
It is small (3 inches long), but just the right size for your car keys. Made of high quality steel, this piece is shiny and makes a statement!
It has nothing but positive customer reviews online. Follow the link above to read the real customer reviews at Amazon online shop.
.
2. Heart-style Kia Soul key chain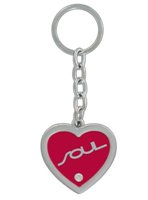 This cool-looking key chain for Kia Soul has a shape of a heart and could be a great present for your loved one, buddy or yourself!
It has a shape of a heart and features a "SOUL" signature. It comes available in red color.
It gets nothing but positive reviews at Amazon.com, so feel free to head over there and learn more details about it.
3. Hoody hamster key chain for Kia Soul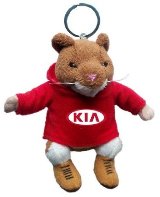 .
.
Kia Soul crossover vehicle is known for "hamster commercials" that have been aired at major TV networks and Youtube.
The hamsters have become real icons, so there's no wonders why you can also find a hamster-styled car chain among our 5 best Kia Soul key chains in 2021.
This particular hamster toy is approximately 2.75″ tall and features a Kia brand logo. It doesn't cost much, so this is, in our humble opinion, an absolute steal!
4. Teardrop Keychain

The so-called "teardrop" key chain is another TOP quality Kia Soul OEMaccessory that you can buy as a present.
According to Amazon online shop, this piece is officially licensed and made in the USA.
The size of this item stands at 3 inch height x 1 inch width.
It comes with a lifetime manufacturer warranty (check the link above to find more details on the warranty details).

.
5. Heart-shaped Soul key chain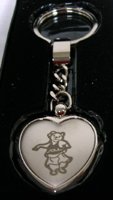 .
.
Rounding out the top 5 coolest-looking Soul keychains is another heart-styled hamster piece.
It's a genuine Kia accessory featuring a hamster girl.
According to several customer reviews, this is the perfect keychain for all the girl owners of the Soul funky car.
Product dimensions: 3.8 x 1.5 x 1.4 inches
.
More types of Kia Soul key chains available online
Do a quick search on Amazon and you will find plenty of Soul key chains to choose from. They come in all sorts of shapes and sizes, and can even be sorted into gender specific lots.
You will find heart shaped keychains, with a couple of really cool styles to choose from.
There is a bright red heart with the Soul insignia splashed across it, as well as the metallic keychain in the shape of a heart with the aforementioned female hamster (the one seen in the Soul EV commercial ad) etched on there.
If you are looking for something a little more manly, there are all kinds of chrome type keychains to choose from.
These come in a variety of different shapes and sizes, and are a perfect complement for those of you who went with a higher trim level that features little touches of chrome on the inside and out.
We could go on and on about all the different car key chain styles available, but we really can't write well enough to do them all justice.
You best bet is to simply head on over to Amazon and take a look for yourself. We are confident that you will find a keychain that suits your style and the look of your Kia Soul.
Best of all, the vast majority of them fall under the $20 mark. Where else can you get a cute Kia hamster in a Soul key-chain for that sort of price?