A major part of the success of the Kia Soul has been the advertising campaign that came with the release of the car.
The hip hop hamsters featured in the ads perfectly encapsualted the appeal of the Soul to a younger, hipper crowd.
The latest entry in our series of Kia owners, Anthony Rasten, freely admitted that when it came time to get his first car after graduating high school, the ads for the Soul were enough to draw him in.
Anthony test drove the Soul car and immediately fell in love with the ride and the interior features, with the lit speakers being a particular highlight for him.
He picked up the 2010 model and still gets compliments from people who think his ride is still brand new.
As much as Anthony loved his new Soul, he wanted to make a few additions so that it was more unique and able to stand out when placed side by side with other Soul's on the road.
The additions that Anthony has made have definitely had the desired effect, so be sure to read on to learn more about how he pimped his Soul to suit his own specific style.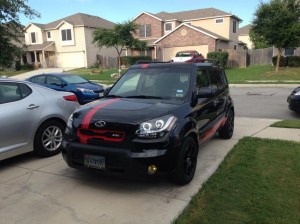 1. Tell us something about your Kia Soul ownership experience?
I became a Kia fan when I saw the hamster commercial for the Kia soul.
Few months later I went to the local dealership and test drove the soul and I fell in love with it.
I like everything about the car, especially the interior and the lit speakers. Also the price was great too!
Thanks to this great quality car, I became a huge Kia fan!
2. What do other people say about your modified Soul crossover?
They say my Soul looks very unique and standouts. They are also surprised when I tell them its a 2010 model year, because it still looks new.
3. How long have you owned your ride?
Its a 2010 model year, but I purchased it in August of 2009
4. Honestly, what was your intention when you bought your Kia?
This was my first car, so I was looking for an affordable car. The Soul had a great price, so I bought it.
5. What do you like the most about your vehicle?
Since Im 6ft 3 I was surprised how roomy it was and comfortable for all my passengers.
6. What is it that makes your Kia Soul look unique?
The style of the car. I've done a lot to the car and standout from most Soul's.
The thing that also makes my Kia car unique is that I always keep it clean and polished.
7. What aftermarket accessories have you installed so far? Do you have any future plans?
1. Offset Rally stripe/Rocker panel Stripe from House of Grafx.com
2. Red trim Dashboard Kit from Quality Dash
3. Yellow fog light tint from lamin-x Protective Films
4. Kia OEM rear Wing
5. Drag Wheels 16X7.5 with hankook tires
6. SSD Performance Roof Rails
7. Kia Soul Burner Grille
8. Soul Tuon emblem/ K emblems
9. CCFL Halo Ring projector/Led Parking Lights
10. Takeda Cold Air Intake/ Stillen Strut Bar
11. Engine Paint/ Caliper Paint from VHT
Pictures: Kia Soul
Future Tuning Plans & Kia Soul Accessories
– Front and Rear Kit Rotors/brake pads from Hart
– Lowering Springs from Megan Racing
– Hood Quicklift shock from Redline Tuning
Car Information, Specs: Kia Soul
Engine: 2.0L in-line 4 cylinder with 164 hp
Color: Black
Trim: Plus
Model yYear: 2010
Tire Size: P205/65 R16
Average MPG: N/A
Miles driven so far: 45,379