When Kia unveiled their Track'ster concept last year, it was met with wild enthusiasm and questions as to when the vehicle would go into production.
There is traditionally an 18 month gap between the end of design and production, with many folks assuming that many of the things seen in the concept would make their way to the all-new Kia Soul.
2014 Kia Soul exterior
There are definitely some similarities to be found on the exterior. The most noticeable is the trapezoidal lower air intake, which is almost identical to the concept.
The low, leading edge location of the fog lights is also reminiscent of the Track'ster.
The signature Kia grille is still in place, but has been tweaked a little to look more like the concept.
Another addition that seems to be pulled from the Track'ster is the "floating" body color panel inset that appears in the lift gate.
More subtle changes include an additional opening of the lift gate by 2.4 cm, meaning a little extra cargo space.
Interior Design
The design team has obviously made real efforts at giving the 2014 Soul a look and feel that is much more premium. Soft-touch materials are evident on the instrument panel, center console, and the door panels.
There is also available leather seating with improved lateral and thigh support. The interior gets an added touch of sophistication with the use of gloss piano-black trim pieces on the dash and center console.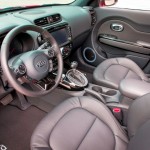 Kia's designers claim that the current Soul interior was used as a starting point, with the circular interior theme of the Track'ster also included.
Tom Kearns, Kia Motors America Chief Designer, said that they had only slightly hinted at the circular patterns with the previous generation Kia Soul.
He said that the goal with the 2014 model was to use as many of the Track'ster's circular interior reference points as possible.
Most noticeable is the triple-circle instrument cluster, which has the gauges deeply recessed. Sculpted circles cab be found along the door panels, and the center console has a round gear shift knob and push-start button.
The location of the button is a Soul exclusive, and is also a direct import from the Track'ster concept.
The front speakers are door-mounted and also adopt the circular motif. There is also the option of LED-string light technology that creates a rippled lighting effect.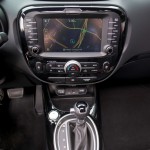 The controls are steering wheel mounted and are laid out in a way that allows the driver to keep their hands on the wheel at all times.
The controls for audio and the trip computer are again arranged in Soul-exclusive circular groupings.
Kearns described the entire circular aesthetic as being similar to droplets falling into a pond. He said that Kia's goal was to create an organic interior that would be appealing to both the driver and the passengers.