The all-new Kia Soul EV was unveiled in the US last month, and now European enthusiasts will be able to get their first look at the electric car when it is unveiled at the Geneva Auto Show.
They will be able to see the advanced power pack and lithium ion battery cells up close and personal.
It is the state of the art battery pack that is drawing a lot of the buzz, thanks in part to its class leading cell energy density of 200Wh/kg.
"Kia Motors and SK Innovation took three years to develop the state-of-the-art battery pack."
All told, the 27 kWh power pack will be made up of 192 lithium-ion polymer battery cells in 8 modules.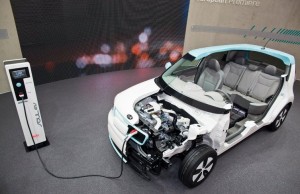 In order for the optimum temperature to be maintained at all times, engineers used thermal control technology, which also ensures that the structural design in maintained in the event of an accident.
The mass produced battery cells incorporate nickel-rich NCM cathode materials.
Cathode capabilities are a big part of the energy density, which is what delivers improved performance and driving range of the new Kia Soul EV.
What that means is that the aforementioned class leading energy density allows the all electric Soul to have a driving range of roughly 200 km on a single charge.
As well as high energy density, engineers also had to think about performance requirements such as safety and lifecycle, which is why high performance electrolyte additive and anode materials were used.
Furthermore, the Soul's battery cells use a special safety and secure separator, which is used to determine the safety and charge/discharge speed of the battery.
It also offers thermal resistance, protecting the cells from exposure to heat or fire. This is achieved by ensuring that the separator dos not shrink when exposed to above normal temperature levels.
A number of elements – low electrical resistance battery cell, proper battery system thermal control and accurate state-of-charge calculation – help the battery achieve a full charge in just 25 minutes (100 kW DC) or 33 minutes (50 kW DC).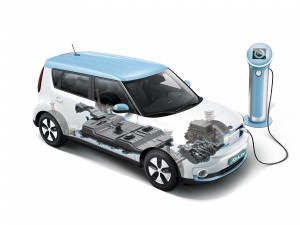 Depending on the power source used, maximum charge time comes in at around 5 hours.
The aforementioned electrolyte additive helps the Soul EV's battery run at full performance in all kinds of different temperatures.
This means that the car will run smoothly in all weather conditions, with driving range essentially unaffected by the weather.
Cold weather can be especially problematic, but the Kia Soul EV comes with a battery heating system that will warm up the unit when it is plugged in for charging.
This helps keep the battery running at optimum power, even when the weather is not co-operating.
Overcharging is essentially taken out of the picture thanks to the addition of an overcharge protection device. The high voltage circuit will be cut if the system senses that overcharging is about to occur.