Car: 2010 2.0L Molten Soul, Burner Edition, Manual transmission. 225/45 R18 stock Hankook Optimo tires on Enkei- Raijin hyper silver wheels- 18-8, 40 offset.
My prior two cars were Volkswagens a 1987 GTI, and a 1990 8V Scirocco (super rare, 1 of 2 in North America).
The Scirocco lasted nearly twenty years as a daily driver and I did not want to replace it!
The car was becoming too unreliable and the back seat was too small for my growing children.
I had been looking for a new car for a long time when the Soul was launched here in Canada.
Got The New Kia Soul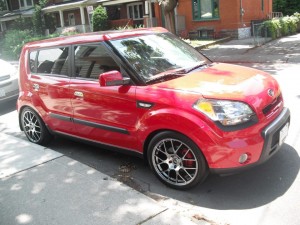 The Soul met my needs to a tee!
Fairly fuel efficient (I get 26mpg, but I drive it like I stole it.), bluetooth, sunroof, M/T, big back seat, and the funky, different design is a huge plus.
When I first purchased my Soul it was one of a very few on the road here in Ontario, Canada, and I would get a sorts of questions from strangers, mostly "What kind of car is that?".
Now the Soul has has really taken off in terms of sales numbers and they are quite commonplace.
I am an Electrician with I.B.E.W local 353 and work for Toronto Community Housing using a company bucket truck daily, so I don't put a lot of kilometers on the Soul.
I have averaged 1000km. a month for the last fifty months (purchased May 2009). 50,000 trouble free kms. Kia "The power to surprise!"
I was an active member of the Kiasoulforums.com in less than a few weeks. I was 1 of the first members of the Soul Club of Ontario, and have gone on many cruises with my good friends and fellow Soul club members, and have received many good ideas from them.
I missed the very first international meet up of Souls on Goat Island in Niagara Falls N.Y., but after I attended the second Hamsters in the Mist (II) in 2012.
Added Some Aftermarket Accessories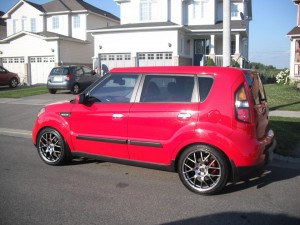 I got the bug to customize my Soul and to make it stand out from the many other Souls on the road.
I had already tinted my own windows (driver's side and passenger side front) ($17) and added LED lights to match the front speakers in the back seat speakers and the Sub. and the footwells and cupholders, as well as under my headlights (Audi style), and had a "Burner grille from the U.K.
I added a cold air intake from Takeda, a SSD strut tower brace, and a Redline hood strut, a Kia "SOUL" engine cover, and LEDs to light everything up under the hood at night for car shows and to show off how clean it is under the hood!
Then I purchased some Eibach Pro-kit lowering springs, and on a whim when i went to pick them up I purchased a set of custom wheels and a car DVR, Then I tinted my tail lights with Nite- shades spray on tint and added European fog lights that act as tail signal and brake lights also i made my own brake light cover to resemble flames.
I found a set of slightly used custom LED, angel eye head lights on Kissoulforums, and I jumped at the opportunity to buy them (Awesome), Future plans are; front spoiler (maybe DIY), slotted rotors and ceramic pads (to cut down on the brake dust) possibly a carbon fiber hood wrap, and a back up camera.
At the next Hamsters in the Mist (III) in June 2013 I was voted best Soul by 17 fellow soul owners!
So I am very happy with my mods thus far.
Soul's Been Fun To Drive, Experienced No Problems At All
The Soul has been an excellent choice of car, Zero problems in 4 years, Fun to drive and I don't often hold back on a tight corner or a long smooth straight, I love the sound the CAI makes on acceleration.
I mostly do city traffic from work to home and longer highway cruising on the weekends. I am nearly 50 years old so I don't fit the younger demographic that Kia was going for with the Soul, but I don't feel that old.
I still skateboard, I enjoy woodworking, F1, car shows, game shows and building stuff in general.
I think my Molten Red Kia Soul stands out due to the wheels and the lights (head and tail).
Other people seem to go out of there way to compliment me on my ride and I am quick to tell them of my positive Kia experience! They surprised me!