Those of you who keep up with our US market sales reports will have noticed that Kia Soul EV has got off to a slow start.
Sales have been kind of sluggish this year, which has left us wondering why more customers are not excited about this vehicle.
What we have discovered is that a big part of the low sales problem has to do with low availability, which is brought on by not enough vehicles being produced in Korea.
That's a real shame, because judging by the reviews, this is an electric vehicle that people all over the world want to drive!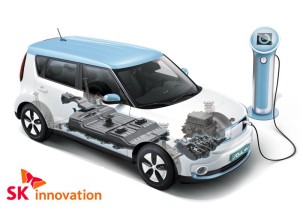 No automaker wants to hear about poor sales, but rumor has it that the future is about to get a little brighter for Kia and the Soul EV.
SK Innovation, a Korean EV battery supplier, has just announced that they will be more than doubling the number of batteries they produce for electric vehicles.
The electric car demand is increasing fast, which is why SK Innovation is boosting its annual battery production volume fom 10,000 units to 30,000.
This is good news for Kia, as this is the company who suplies the electric batteries for both the Kia Soul EV and the Ray EV models.
Before we all get too carried away, it's worth noting that this doesn't mean that Kia will now be able to make 30,000 EV's per year.
This is because SK Innovation also supplies batteries to an automaker in China, and not just to Kia for the aforementioned models.
Some of those 30,000 batteries are going to be headed to China as well.
The extra supply will still mean that Kia will be able to boost their production numbers.
Their initial goal was to sell 5,000 Soul EV's in year one, and then gradually increase that number beyond 10,000 units.
With more batteries now available to them, the production numbers of the Soul EV can be doubled or tripled, making it easier to meet demand, and thus increase sales.