There are few vehicles on the road today that are as open to customization as the Kia Soul.
If you regularly follow our Kia blog, you will have already read our interview series that features people who have made a variety of changes to their Soul crossovers.
As fun as all of that is, it's not everyone who has the time or money to make their Soul a little sportier or flashier looking.
Those people are in luck, as the Kia Soul Energy Edition looks for all the world like a custom model, and all at a price that anyone can afford.
The new limited edition Soul Energy model is being released by Kia Canada, and features, quite literally, a number of highlights that make this one stand out from the traditional Soul model.

Some of you may remember the Alien Green exterior color that was available for a while. That bold color is making a bit of a comeback, and is being used as a highlight on certain body parts of the Soul Energy Edition vehicle.
The car comes in either basic black or white, but it's those Alien Green trims, as well as some sporty touches, that make this model really pop.
The green accents can be found around the grille, side skirts, rear spoiler, side windows, as well as on the sporty front and rear bumpers. The little additions may seem pretty subtle, but they really make this version of the Soul a whole lot sportier and stylish.
These additions are made to the base Soul EX model, which is good news for those on a bit of a budget.
Better yet is the news that the additions also come at a price that is a whole lot less than you might expect.
The limited edition kit would actually cost around $3,000, but Kia are slashing that price in half, which means you can get this sporty Soul Energy Edition model for just $22,695.
Kia Soul Energy Edition – leaked official details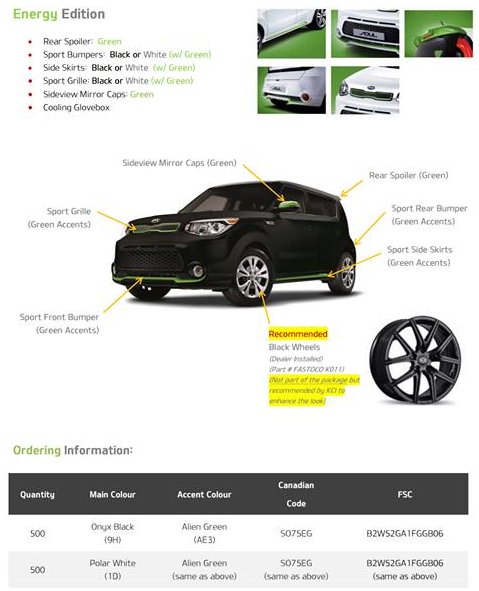 Stay tuned for more pics of the Kia Soul Energy Edition!