The latest in our Kia owner's series takes us to Tampa, Florida, where we find Phil, a retired former resident of Southern California who now lists iPhone art among his hobbies.
The photos he has taken as part of his art has seen his work land in iPhone art shows all over the world.
He loves nothing more than to share the photographs of his gray Kia Soul.
Phil just found the Kia Soul Titanium Gray this year, and admits that he was hooked from the moment he left the lot on a test drive.
He loves the spaciousness and how well it handles, going as far as admitting that it's the best car he has ever owned.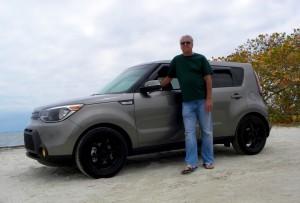 While the iconic look of the Soul has made it very recognizable, there are still people that are not sure what it is when they see it.
Phil loves taking the time to tell them more about the Kia Soul when they remark on how cool or cute that it looks.
Those same people also take the time to comment on the modifications that Phil has made to his car.
He has turned his creative eye to his Soul crossover vehicle, with the intent of making it look even funkier than it already is.
Style and comfort were what he was initially after when he purchased the vehicle, but he now look at is as a new art project of sorts, with more changes to come.
Kia Soul Titanium Gray Q&A
1. Tell us something about your Kia car ownership experience!
From the time I test dove the new Kia I know that is the car I wanted and bought it the day I took a test drive in it.
It is the best car I have owned, I love how it handles, the style and comfort. I have plenty of room and really enjoy driving this very cool car.
 2. What do other people say about your Soul Base?
Most people ask what kind of car is it. They all say how cute it is or how cool looking it is.
They are surprised at how much room there is inside when I open the door to show people my car. They also comment on what I have done to my car and think it's cool I like to personalize my Soul.
3. How long have you owned your ride?
I bought it back in November 2013 after taking a test drive while shopping for anew car. So it's been 5 months now.
4. Honestly, what was your intention when you bought your car?
I was looking for something different  looking, a safe reliable car that also looked cool. I had a car that was getting old and wanted something new and different.
The ads really caught my attention on TV and when I saw it for the first time in person I thought wow that is very cool looking and had to take a test drive.
I was impressed by all the features on the Plus model and how comfortable it was and impressed with the quality that went into the car.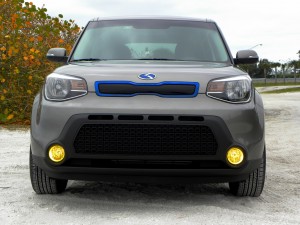 5. What do you like the most about your Soul Plus?
Style and comfort.
6. What is it that makes your ride look unique? 
The blue trim I have added on the front upper grille, black spoke wheels and the new emblems I added.
 7. What Kia Soul accessories have you installed so far / do you have any future plans?
KONIG® – BACKBONE Matte Black with Milled Logo on Spoke (17″ x 7.5″, +45 Offset)
KIA Soul rubber floor mats
Kia Soul Rear Bumper Protector
Rain Guards and Mud Guards (G100)
K&N stock air filter replacement
Kspeed Blue K logo Front Rear emblems
BLUE BILLET ALUMINUM ENGINE VALVE COVER OIL FILLER CAP
Curt Trailer Hitch and Thule 9042 Helium Aero 2-Bike Carrier
Mark II VG shark fin antenna
2014 Kia Soul Genuine Fog Light / Lamp Switch Wiring harness
Complete Full Kit with 14 Kia Soul Fog Light Protection Kit by Headlight Armor
KIA Soul 2008-2013 Blue Premium LED Interior Lights Package Kit
Super WHITE Festoon Dome Map Light Interior Lights with tinted blue map light covers
12 x 1.50 BLUE TUNER LUG NUTS
Double flat black rally stripe on rear hatch
Hula Girl on dash
Coming soon:
Chrome Exterior Garnish Molding Trim Set K-515 For KIA 2013-2014 Soul,
[Kspeed] K Logo Steering Wheel Horn
Center Cap
Kia Soul Base specs
Engine:  2.0L 4-cylinder GDI
Soul exterior color: Titanium Gray
Trim Level:  Plus Model
Model year: 2014
Tire size: 215/55R17
Average mpg: 26.5
Miles driven so far: 3,400