The all-new Kia Stonic image renderings released ahead of its official unveiling!
It's always exciting when car rumors that have been swirling around for a while are finally confirmed.
That is what has happened today, with the automaker announcing that their new B-segment vehicle will indeed bear the Stonic name.
It's a funky name, but it is derived from combining "Speedy" and "Tonic," a nod to the first and last notes in the musical scale.
The new Kia Stonic model will have some stiff competition from the likes of the Renault Captur, Nissan Juke, and its sister model, the Hyundai Kona, but it looks as though it is up for the challenge.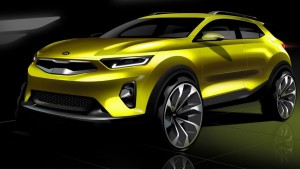 Image renderings of Kia Stonic
Rather than just giving us the name of the new model, the South Korean carmaker delivered a trio of design sketches that give us an idea of how the upcoming Rio-based SUV will look inside and out.
Unlike the (Hyundai) Kona, the Stonic will have a more conventional subcompact crossover design, which includes split headlights and some other juicy little details.
One thing to keep in mind when looking at the sketches is that designers tend to overemphasize the alloy wheels in these pictures.
Those big wheels, as well as the retractable door handles seen in the sketch, will not be on the production model. We can expect the real deal to have a larger greenhouse, as well as larger side mirrors.
These touches may take away some of the cool factor seen in the sketches, but make no mistake, this is still going to be a great looking vehicle.
Kia has said that many of the design elements will be taken from the Sportage and Sorento, and that the sloped roofline of the Stonic SUV will feature what they call a "uniquely designed" roof rack.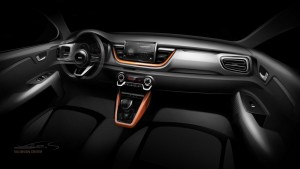 As far as the inside goes, it appears as though the Stonic will be using many of the design elements found in the new Kia Rio supermini.
The layout is about as close to identical as it gets, although the air vents have a different shape, and the infotainment system seems to be a little larger, with the side control buttons removed in the Stonic set-up.
Stonic AWD
We also don't know whether the upcoming Stonic will be FWD only, or of it might have an AWD option, but latest Kia rumors suggest that the Stonic AWD will not be available!
Stonic electric vehicle
Will Kia Stonic be available as an all electric car? Rumors suggest that Kia may launch the Stonic EV in 2020.
Official European release date
The new Kia Stonic will be officially released in South Korea this July, while European premiere will most likely be held at theFrankfurt Motor Show in September.