These are the latest Kia spy shots and they showcase a heavily camouflaged 2018 cee'd 5-door hatchback.
This is the third-generation Kia cee'd, which first hit the market back in 2012, and which got a minor facelift last year.
There will be many more changes on the 2018 Kia ceed, which is currently out and about in the testing phase.
2018 Kia cee'd release date
The official 2018 Kia cee'd release date has yet to be announced, but we expect the model to be launched in Europe late next year.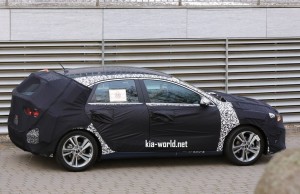 Before the actual release date, the fully redesigned Kia cee'd 5-door hatchback should do the motor show rounds, with Frankfurt in September being the most likely spot for the official unveiling.
The 2018 cee'd 3-door coupe and the 2018 cee'd SW estate will follow within a few months of the release.
2018 Kia cee'd spy shots
The 2018 Kia ceed spy shots were taken in Germany, and it would appear to be the production body on display, although it is heavily camouflaged.
What we can see is a sportier front fascia with a low grille and sleek headlights.
The tiger nose grille has undergone a little bit of a reshaping, too. Around back, the taillights are now a little wider than before.
2018 ceed engine specs
Under the hood, the engines used will be the same as those on the new generation Hyundai i30, which means the entry level engine will be a 1.0-liter turbo that cranks out 118-hp and 125-lb.-ft. of torque.
Also, expect a 1.4-liter that delivers 138-hp and 179-lb.-ft. of torque.
As far as diesel options go, expect a 1.6-liter engine with three distinct outputs: 94-hp, 109-hp, and 134-hp.
Engine choice will dictate the transmission, which will either be a 6-speed manual or the optional 7-speed DCT.
More spy pics of Kia ceed 2018
We will keep you up to date with all the latest news on the 2018 Kia cee'd as it happens.