Kia Ceed PHEV 2022 (model) has 437 liters of cargo space.
Some automakers still talk about their plans for the future with electric models.
For Kia, though, the future is now, as the Koreans already have an extensive range of hybrid, plug-in hybrid (PHEV), and all-electric (EV) models already on the market.
The latest member of that club for Kia is the 2022 Ceed Sportswagon plug-in hybrid (PHEV), which comes with an all-electric driving range of around 60 km.
Place the Ceed Sportswagon PHEV and the regular model side by side and you will see some definite styling difference, which has been done to create a distinct separation between the two models.
Kia has always had a killer warranty, and this model is no different. It comes with Kia's 7-year, 100,000-mile warranty, which also covers the new battery pack and electric motor included in the Ceed Sportswagon plug-in hybrid car.
2022 Kia Ceed Sportswagon PHEV specs
The new Kia Ceed Sportswagon PHEV is a great alternative to gasoline powered models in that it gives you that extra mileage when you need it most.
Borrowed from the Niro hybrid, the hybrid drivetrain comes equipped with an 8.9 kWh lithium-polymer battery pack, a 44.5 kW electric motor, and an efficient 1.6-litre four-cylinder GDI engine.
As far as power goes, the torque output comes in at 139 horsepower and 265 Nm of torque, which allows the Ceed Sportswagon PHEV to go from 0-100 km/h in a rather nimble 10.8 seconds. The powertrain is mated to a 6-speed dual-clutch automatic transmission.
Recharging battery with braking
As part of the standard technology of the 2022 Kia Ceed Sportswagon PHEV you get regenerative braking, which is where kinetic energy is sent back to the battery pack to charge it while the vehicle is coasting or braking.
With an estimated 60 km of electric driving range, the 2022 Kia Ceed Sportswagon PHEV should be able to get those with a short daily commute to and from work without ever needing to use any gas.
Another great feature found in the new plug-in varian of the Kia Ceed is the Virtual Engine Sound System (VESS).
This system kicks in when the vehicle is an all-electric mode, emitting virtual sounds at around 59 dBA, more than loud enough to alert pedestrians when the vehicle is operating at low speeds or reversing. This system will in fact be mandatory in the EU later this year.
2022 Ceed Sportswagon PHEV cargo space & towing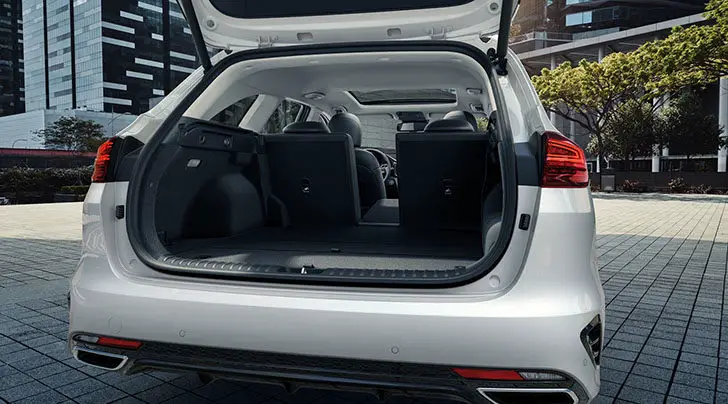 One of the concerns people have with plug-in hybrids or all-electric vehicles is the amount of cargo space the vehicle offers.
While the addition of a big battery can sometimes present problems in that regard, this Kia plug-in hybrid car is designed in such a way that the battery pack does have little to no impact on interior space.
You can find the 8.9 kWh battery pack right beside the 37-liter fuel tank, which is located beneath the car's rear bench. What that means is that there is minimum impact on cargo space, which is not something that you can say for other PHEV's currently in the marketplace.
New Kia Ceed Sportswagon PHEV delivers a whopping 437 liters of luggage space, which increases to as much as 1,506 liters when the 40:20:40 split-fold rear seats are folded down.
Furthermore, there is a space beneath the trunk floor that has been set aside for the charging cable when it is not being used.
One more thing that sets the Ceed Sportswagon PHEV aside from others in the hybrid car segment is the ability to tow.
The vehicle comes available with an optional Towing Package, which enables owners to tow smaller-sized trailers (the official towing capacity has yet to be announced).
Does it look different compared to other Ceed models?
As mentioned earlier, the Ceed Sportswagon PHEV model comes with some style differences when compared to the gas-powered models. Let's take a closer look at what's different on the PHEV:
The Kia "tiger-nose" grille is closed
It has a sportier look, courtesy of the same front bumpers used on the Ceed Sportswagon GT-Line models
It comes equipped with "eco plug-in" exterior badges
Comes equipped with 16-inch alloy wheels as standard, although sporty 17-inch wheels are an option.
The same driver-oriented dashboard as found in the other Ceed models is also used in the Sportswagon PHEV. That said, owners also have a laundry list of new functionalities to improve their driving experience and help them get the most from the new powertrain.
The charging indicator is there to act as a visual aid, allowing drivers to see when their car is charging and when it has a full charge. This feature is located right at the top of the dashboard, making it easy for drivers to know exactly where they are in terms of the state of charge. This indicator can even be seen from outside the car, which is incredibly handy.
The vehicle also comes equipped with an 8-inch touchscreen infotainment system, but if you want something bigger, you have the option of a 10.25-inch version that also comes with navigation with Kia's UVO connect telematics. This allows drivers to gain all sorts of valuable information, including charging points found along their current route.
Owners looking to take advantage of cheaper off-peak energy tariffs can use the UVO system to schedule the best times to charge their vehicle at home.
Another great feature exclusive to the 2022 Kia Ceed Sportswagon PHEV is the Driver Only heating, ventilation and air-conditioning system. When the driver is alone in the vehicle, the system automatically closes all vents in the cabin except those closest to the driver.
This allows the driver to remain comfortable while reducing draw on battery energy. The big difference with this system is that it doesn't just close the vents, it also switches off the fans that direct air to the other vents in the cabin.
Great alternative to gas-powered cars
As you can see, there is a lot to love about the new Kia Ceed Sportswagon plug-in hybrid car besides the 60 km all-electric range. It comes with a host of other premium and safety features that help make it a great alternative to gasoline powered Ceed (Xceed) variants.