Winter testing is crucial for every new car, which is why spy photographers were able to snap pictures of the facelifted 2016 Kia cee'd in Sweden.
The vehicle is not due until later this year or early next, but the spy photos give us some clue of what to expect.
The front is where most of the styling changes will take place, with an updated signature grille, headlights, and lower bumper, all designed to give the vehicle a slightly more sporty appeal to match the look of the sporty pro_cee'd GT.
The spy shots here are for the 5-door style, but expect a pro_cee'd coupe and cee'd SW station wagon the be updated, too.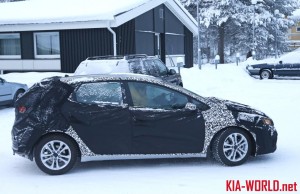 The new 2016 cee'd hatchback will be Euro 6 compliant, thanks to a range of new engines.
There is no official word as of yet, but the belief is that a downsized turbo engine will likely be made available, similar to that found in the just-recently refreshed Hyundai i30 hatchback.
Hyundai i30 facelift (ceed's sibling model) received two new gasoline engines, including the lighter 1.4L and a 183-horsepower turbocharged 1.6L petrol units
A pair of 1,6L CRDI diesel units that deliver an output of 100 to 136 horsepower will also be available.
The i30 also features a brand-new 7-speed dual clutch automatic gearbox across the range and it is highly likely that the 2016 Kia Cee'd will feature that, as well. (Photosource: Autowereld)
Official Release Date Of New Kia cee'd Facelift
The upcoming Geneva auto show, which opens its doors in March, is a likely candidate for the official unveiling of the cee'd facelift.
However, several sources close to Kia also state that the automaker would introduce the next-generation Optima sedan in Geneva, while the revised 2016 cee'd would be officially unveiled at the Frankfurt Auto Show in November.
Two More Spy Shots