201-horsepower Kia Forte GT gains enhanced exterior looks & improved ride and handling.
The Kia Forte line-up got a little sportier for the 2020 model year with the addition of the sporty Forte GT sedan.
With enhanced suspension and a turbocharged engine, this new addition to the family is one that is incredibly fun to drive.
Besides the changes we have mentioned, the 2020 Kia Forte GT model also gets a stylish makeover on the outside and inside. The end result is a stunning looking compact sedan that some are even referring to as the "mini Stinger".
It's easy to understand where that comparison comes from, as the bigger sized alloy wheels and sportier styling give it some resemblance to the sporty Stinger.
To this point, we have only really touched on the basics, but there is a whole lot more to learn about the 2020 Forte GT. We have all that information, from pricing, engine, specs, and tire size to fuel efficiency and US availability all listed for you here.
With that on mind, let's talk about the Forte GT.
2020 Kia Forte GT release date & pricing
Head to your local Kia dealership today and you will see that the 2020 Forte GT is already on sale in the US. Our first glimpse of this stunning vehicle came at the SEMA show last year, but it is now officially available as a 2020 model.
If you are looking at going with the sportier Forte GT model, you need to be aware that it's a little pricier than the standard Forte model.
The base trim level of the Forte 4-door sedan comes in at $17,990, while the starting price for the 2020 Kia Forte GT that comes equipped with the 7-speed dual clutch transmission starts at $22,290.
If you are a driver that prefers a manual transmission, then you can get the 2020 Forte GT with the 6-speed manual gearbox for a starting price of $22,890. The prices quoted above do not include the $925 destination fee.
Engine specs, brakes, tires
The base Forte trim levels come equipped with a 147-horsepower 2.0-liter engine. There's more power on offer with the Forte GT, starting with the 1.6-liter 4-cylinder turbo that cranks out 201-horsepower and 195 lb.-ft. of torque.
Kia Forte GT
engine specs
Type
1.6L 4-cyl. turbocharged GDI
Displacement
1,591 cc
Horsepower
201 hp @ 6,000 rpm
Torque
195 lb.-ft. @ 1,500-4,500 rpm
As mentioned earlier, you have your choice of a 6-speed manual or a 7-speed DCT transmission with the Forte GT.
2020 Kia Forte GT transmission options: 6-speed manual & 7-speed DCT
Beside the changes made under the hood the 2020 Forte GT compact sedan also gets an upgraded suspension, which has been designed to deliver improved handling. The torsion beam suspension on the lower trims has been removed in favor of a sport tuned suspension with rear multi-link and tuned springs and damper. 
You also get improved stopping power, with Forte GT front disc brakes going from 11-inch to 12.
Also included are some great looking 18-inch alloy wheels complete with red accents designed to help the GT model stand out in a crowd.
2020 Kia Forte GT tire size: P225/40R18
Fuel economy of the Forte GT 2020
When you hear talk of a sporty sedan, you don't usually expect to hear good news on the fuel efficiency front.
That's not the case with the 2020 Kia Forte GT, though, with the manual transmission model delivering 25/32/28 mpg city/highway/combined. The Forte GT model with the 7-speed DCT transmission delivers even better 27/35/30 mpg.
Exterior & interior styling tweaks
A sporty model should look good inside and out and the new Kia Forte GT delivers the goods.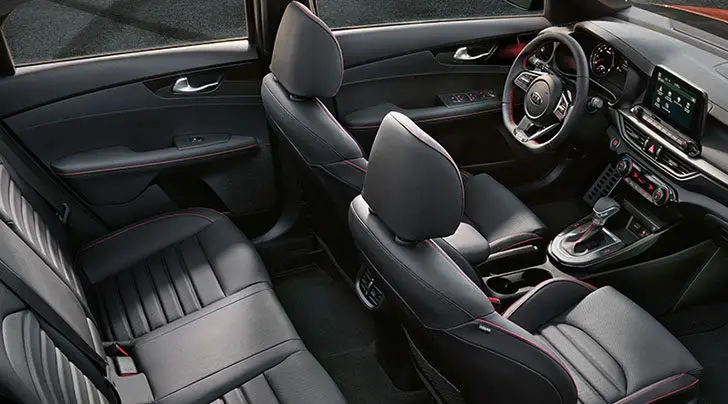 While Kia have definitely given this vehicle a serious sense of sporty style, they have not gone totally overboard, which is a good thing. The proportions and silhouette are fantastic, making the Forte GT a truly appealing model.
Rather than going all out in the styling department, Kia chose to deliver a series of small touches that help make the GT look amazing. One of the highlights is the piano black grille that comes with red accents, although the side sills and rear decklid spoiler also shine.
Dual exhaust tailpipes add to the performance look, as do the alloy wheels that come with 225/40R18 Michelin Pilot Sport summer tires.
The top of the range Forte sedan also gets sportier touches on the inside. Sports bucket seats with the GT logo and red stitching are up front. The steering wheel is D-shaped with paddle shifters up top, with metal sports pedals at the feet of the driver, who sits on a power seat.
Mood lighting is found throughout the cabin. An 8-inch integrated navigation system and a Harmon Kardon premium system are also in place.
Worth paying a little extra for the turbocharged Kia Forte GT?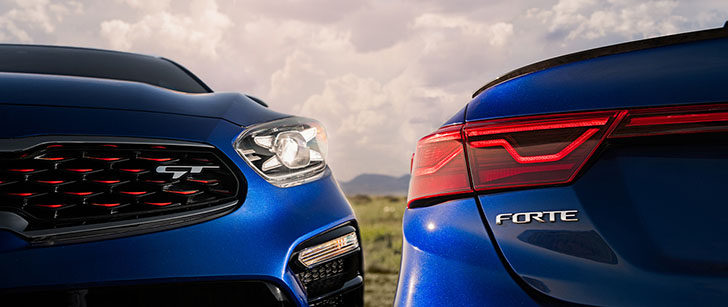 This model is more than just an upgraded Forte with a GT badge slapped on for good measure. Performance and handling are vastly superior to the basic model, yet still at a price that is affordable.
While there is a focus on the sportier side of things, this is still a great vehicle for people looking for a great deal and an even better driving experience.
Think of the 2020 Kia Forte GT this way; it's like a $23,000 compact sedan that also just happens to come equipped with some style and performance details that make it look and feel like a much more expensive ride.