We have recently been featuring some stories about the real world experiences of first time Kia car owners.
For this one, we turn our attention to Tom, a resident of Maryland and employee at Red baron frozen pizza.
Tom's previous cars included a 1995 Ford Escort and a 2002 Chevy Silverado 1500 LS.
When it came time to look for a new car, Tom decided that he wanted something a little more upscale.
He was initially looking at getting into an older Audi model, but when he saw the Kia Forte Koup out on the road, he decided that was the direction he wanted to go in.
Tom eventually settled on silver 2010 Kia Forte Koup SX with a 2.4L 4-cylinder engine under the hood.
He has logged over 42,000 miles so far and has been getting an average of 32 mpg, although most of the miles he has put in have been on the highway.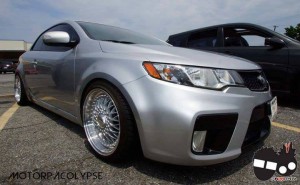 While Tom was initially sold on the styling of the Forte Koup, it was getting behind the wheel for a test drive that really sealed the deal.
This was a true new car experience for Tom, as the Forte Koup that he ended up buying had just come off the delivery truck that morning.
When he drove it off the lot, the odometer was showing that only 9 miles has been logged in the car.
The experience so far has been fantastic, with many people stopping to tell Tom how great his car looks.
He is more than happy to show those folks the details that he particularly loves about his Forte Koup.
Those include the leather heated sights, light up speakers and the Bluetooth connectivity for his phone. Tom has plans to turbocharge the engine at a later date, using nothing but high end parts.
Great Kia Dealership Experience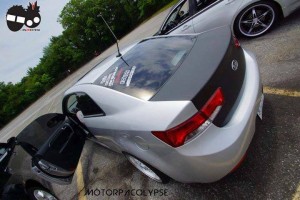 Tom explained that one of the biggest selling points of his car was the experience that he had at the local Kia dealership.
He admitted that car salespeople were not his favorite types of folks to deal with and was surprised that he had a great experience with not just one, but two different salespeople at the dealership where he purchased his car.
He feels that the approach that the Kia sales team took was different to anything he had ever experienced before.
Tom has been delighted with his Kia ownership experience, going as far as to say that he would definitely buy the same car again if he had to go back and re-do the buying experience.
Loyal Kia Owner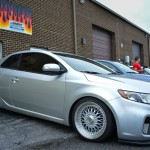 He also said that he is likely to be a loyal Kia customer for many years to come.
It may be a while before he buys his next Kia, though, as he still has plans for his Forte Koup. More aftermarket changes are coming, to go with the changes that he has already made.
Kia aftermarket parts and accessories list so far: megan racing coilovers, racing strut bar, new alloy rims with a 205/40/17, high flow catalytic converter and solo performance cat back exhaust, cold air intake, etc…