For our latest in the series featuring Kia owners from all over, we head to Lincoln, Nebraska to talk to Alexander Valencia.
This is a man who admits to being part of a Kia family, as mom has a 2011 Kia Sorento, and sis is in line to buy a 2014 Kia Rio.
While family ties certainly played a role in Alexander's purchase, his is also tale of love at first site, as it was catching a glimpse of a 2010 Forte that had him doing all he could to add another Kia vehicle to the family.
That is a decision that has been a great one, as the car is now totally paid off, with no serious issues in its past or expected in its near future.
The general reaction that Alexander receives when people compliment his ride is surprise that it's a Kia.
Yes, there are still some places where the brand is viewed as being a bargain one, but those places are starting to become few and far between.
To be fair, some of that confusion comes from the fact that Alexander switched out the Kia logo with some broken 'K' badges, prompting many people to believe that they are looking at a Lexus and not a Kia.
He admits to taking a great deal of joy when telling them that the car he is driving may look like a Lexus, but is actually the affordable, totally reliable Kia Forte.
Alexander may very well have a few more modifications up his sleeve, so to find out more about his buying experience and life with his 2010 Kia Forte, be sure to read on.
1. Tell us something about your Kia Forte ownership experience?
Everything started way back in 2010 after my first high school car gave up on me. As I was getting closer to graduation i knew i had to find a reliable, efficient and affordable car to get me throughout my college career.
While looking into different car options, I decided to go for a base cobalt until something happened that made me change decisions.
At around the same week my parents were purchasing a brand new 2011 Kia Sorento when i saw a brand new 2010 Kia Forte coming off an auto-transport semi, right about there it was love at first sight.
I needed to have it, so i put my savings into the down payment and started paying the car off.
Just recently i got done paying the car  and i can  know be a proud owner of a 2010 Forte. I haven't had any serious issues with my car and wont expect to have any anytime soon.
2. What do other people say about your car?
I have received many compliments on my car before and after my modifications to the car. People don't seem to believe Kia has come this far and  is not becoming very competitive with major car manufacturers.
One of the things i did change in my car was the Kia logo, replaced by some broken "K" badges. This has added even more confusion to people as they seem to think the car is actually a Lexus?
It doesn't get old the fact that people approach me to ask about my "lexus", and then i correct them by telling them the car is actually a Kia.
The look on their faces are priceless! Its a good feeling when people give you props on your car or when just the fact you turn heads  every where you go.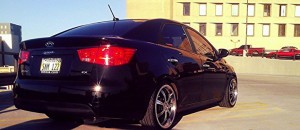 Of course there are those people that throw the "It's a Kia" comment without arguments but little do they know Kia's successful advances. I like to define my self as this quote clearly states, "Its all about standing out, Not fitting in"
3. How long have you owned your Forte 4-door sedan?
I have owned my car since September 2010, purchased the beginning of my senior year of high school.
4. Honestly, what was your intention when you bought your Kia?
In total honesty, my intention in buying my car was because i needed a fuel efficient car.
This Kia forte was something i was able to afford and have learned over the course of my ownership how reliable it is. A year or so after purchased i started to realize how much potential this car has, the reason why i started to make modifications to it.
5. What do you like the most about your car?
The thing i like the most about my car is the way the car rides. The fuel efficiency is in my top list, as saving money to pay for college is my priority. The second thing, it has to be the lines of the body of the car. Sharp and sexy!
6. What is it that makes your ride look unique?
I would say the fact I'm the only modded Forte sedan in my town.
Kia Forte Picture Gallery
7. What accessories have you installed so far / do you have any future plans?
– 18″ Cruiser allow wheels
– Tinted windows all around
– Smithclub Headlights
– LED fogs
– 8k HID's
– Megan Lowering Springs
– Magnaflow performance muffler
– Chrome door-handle covers
Future Modifications Plans
– Kia Koup front bumper conversion
– Megan Coilovers
– Vinyl Wrap the car
– Turbo!
2010 Kia Forte 4-Door Specs
– Engine: 2.0L-DOCH 4-Cylinder
– Color: EB (Ebony Black)
– Trim: EX
– Model Year: Forte Sedan 2010
– Tire size: 215/35 R18 with Nexen n5000 (Summer Setup), 225/45 R17 with Sp Winter sport 3D (Winter Setup)
– Average mpg: 35
– Miles driven so far: 34k