For the lasts in our series of interviews with Kia owners, we head to West Orange, NJ to chat with Chris Quiros, a full-time student at Rutgers.
When Chris isn't hitting the books, he loves to play sports and find time to tinker with his Kia Forte.
This is the first car that he has ever owned, and he has been a happy Kia customer since 2011.
What he particularly enjoys about the ownership experience is how deeply it has pulled him into the car world.
He immediately fell in love with the unique design of the Forte, and how there were few other cars like it in his area.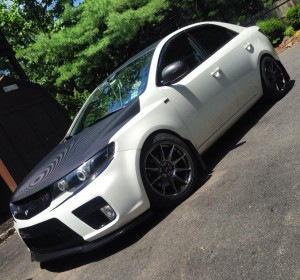 It also helps that the Forte seems to be a vehicle that seems more the willing to be modified, which is a hobby Chris has grabbed with both hands.
Chris has received a lot of attention thanks to his choice of ride. He is constantly being asked what type of car it is, with many surprised that such a cool looking vehicle is a Kia.
His favorite story, though, is evading a ticker after being pulled over. The trooper got into a conversation about the card and the modifications that Chris had made, and was so impressed that he allowed Chris to go without getting that ticket.
Perhaps the biggest surprise of all for Chris is that he has actually become so deeply passionate about modding the car.
He loved the car just the way it was, but soon found himself making little changes here and there to personalize it a little more.
He has tinkered with the wheels, spoiler, and color to begin with. If you want to know what else he has done, take some time to read the full interview.
Kia Forte Specs
Engine: 2.0L Theta II
Color: Snow White Pearl
Trim: EX
Model Year: 2012
Tire Size: 225/45/17
Average MPG: 26mpg
Miles driven so far: 53000 miles
Kia Owner Interview
1. Share your thoughts on your Kia car ownership experience!
I've enjoyed owning a Kia. It was a great experience and it really got me deeply into the car world
. It's a very unique car that I don't think i would've have done all this to if it was a Civic or any other typical car I see in the streets. I barely see any Fortes on the street which is why I did a lot for this unique and amazing car.
2. What do other people say about your car?
I've gotten so many compliments from people. Many had no clue what it was and after telling them, they were very surprised.
Especially when being pulled over by a trooper. He was surprised and speechless after I told him what car this was. He didn't believe me, which also led me to evading a ticket haha.
3. How long have you owned your ride?
I've owned my Forte since about August of 2011 – little over 3 years now.
4. Honestly, what was your intention when you bought your Kia?
My honest intention when i bought this was really in no way of changing it the way I did. I thought I'd be driving it like any other car.
No mods or appearance changes but something about this car after owning it, made me do the things i did to it.
5. What do you like the most about your ride?
The thing i like most about my ride is it's beautiful look, form and style the car was made. It really helped when changing the appearance of it especially the wheels, the color, spoiler, etc.
6. What is it that makes your ride look unique?
I think the color theme, the wheels, and the headlights are what make this car really unique and stand out.
7. What accessories have you installed so far / do you have any future plans?
The things I've done so far are OBX headers, Short Ram Intake, Custom made headlights, LED tail lights, XXR 527 Chromium Black Wheels, Window Tints, CF vinyl Hood and Roof, new horns, conversion of the koup bumper onto the sedan, kenwood aftermarket radio, lightweight pulley, footwell lights, Viper full security and alarm, lowered on ARK springs, and magna-flow cat-back exhaust.
My future plan is to purchase a turbo kit for her in the next few years.
Thanks for participating in the Kia owners interview! Enjoy your Kia ride!