We continue our series of interviews with Kia owners by taking time to have a conversation with JW from Dallas, TX.
He is the proud owner of a Kia Forte, and his hobbies, other than working on and talking about his car, are playing video games and watching football.
The 2014 Kia Forte that JW purchased is certainly different than anything he has previously owned, with a Range Rover Classic LWB and a Ford F-150 among his previous vehicles.
When it came time to buy a new car, JW decided that he wanted a vehicle that had a low cost of ownership, but which would also stand him in good stead for the next 10 years or so.
After visiting a dealership in Dallas, JW took the great information he received there to purchase his Kia Forte online.
The outstanding Kia warranty and inclusion of technology, such as media and navigation systems, were big selling points for JW.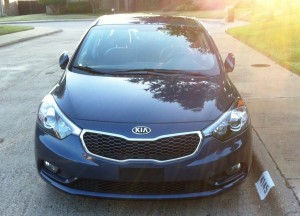 When pressed to mention his favorite aspect of the car, JW tells us that the lighting found in the Forte is most pleasing, especially when he takes off for a night drive.
He also loves the technology package he purchased with the car, but that doesn't mean he is done with modifications.
Read on to see what other plans JW has for his Steel Blue Kia Forte.
How it all started: My ownership experience started with my dealership and it was extremely professional and smooth. I bought the car online and had it delivered to my home in Dallas.
The communication with the dealership was always open and honest. The car itself has exceed my expectations for easy of use and cost of ownership.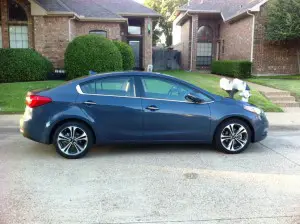 People seem to love new Forte: Every person from coworkers to family members and friends have commented on how nice my new Forte is. As a car guy and a teacher they all know I love research and cars.
Because of that several have said I've changed their mind about Kia as they know I read and drove everything prior to buying and if its good enough for me then its good enough for them.
Car Shopping: I purchased my car on August 5th and took delivery on August 10th.
What was JW looking for? To buy a car with technology and comfort I could live with for the next ten years.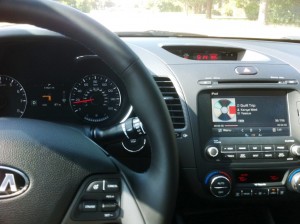 Moreover, a car that would only require routine maintenance in that time frame and no large unexpected expenses.
The warranty on the engine, the quickness of the navigation and media, and the quiet composed ride led me to my new Forte.
Best things about new Kia Forte: The Steel Blue color is a start. I have not seen one other Kia on the road that is that color.
Next would be the LED tails, they look amazing. From the LED parking lights, and the HID headlights that make night driving easy, to the lights on the side mirrors and the door handle pockets that illuminate when I approach the car.
I enjoy those even more at night as well.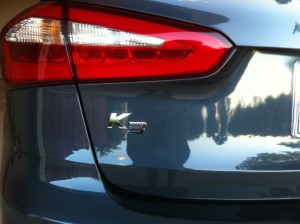 Aftermarket Accessories: I have installed LED license plate lights, I de-badged "Forte" and "EX" from the trunk and placed a "K3" badge on it. The Forte is called K3 in Korea.
Future plans are Wincos-30 tint all around, LED lights for the map, dome, and glove box, Forte all-weather mats, and the Forte alloy pedals found on the upcoming 5-door Forte.
2014 Kia Forte EX Specs, Details
Engine: 2.0 Liter 4-Cylinder GDI, 173hp
Color: Steel Blue
Trim: EX with Technology Package
Model Year: 2014
Tire Size: 215/45R17
Average Mpg: 28.8 combined HWY/City with Active Eco on
Miles driven so far: 584