Many of the interviews we do with Kia owners are with people that somewhat stumbled upon the brand and were blown away by what they saw.
Our latest owner has been around cars for years, both professionally and personally. At work, he is a wrap graphic designer/installer for a sign company in Tuscaloosa, Alabama.
He had already known about Kia when his girlfriend announced that she was in the market for a car.
He saw the Forte EX sedan as the perfect vehicle for her, but became so impressed by the styling of the car that he ended up test driving a 2013 Forte Koup SX.
It was pretty much love at first drive, which is why he decided to by the car as soon as the test drive was over.
His driving past has included a number of imports in the mix, but he says that none are quite as special as the Kia Koup.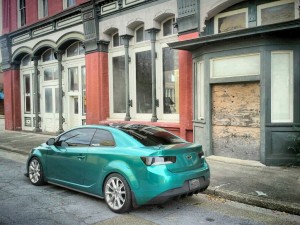 Another benefit that he soon discovered was just how easy the car was to work on, which is perfect for someone that is in to adding some modifications.
He has made a few mod additions already, but is really only just getting started. He has already received lots of appreciative looks and comments from other drivers, which should only increase once those modifications are made.
1. Tell us something about your Kia Forte Koup SX ownership experience?
It's been great! I wasn't actually in the market when I ended up purchasing my '13 Koup.
My girlfriend needed a car and we ended up buying a '11 Forte Ex sedan. I was so impressed with the build quality and style that my heart quickly became set on a Koup.
When I went to test drive one they had a beautiful silver '13 Koup Sx with a 6 speed manual sitting on the lot. Needless to say I had to have it. And I bought it right there.
The dealership was and continues to be very accommodating and the car runs and drives flawlessly. I've never had any problems out of it and any questions I have had have been answered without delay.
I've owned several imports, muscle cars, trucks and SUVs. But the Koup has found a very special place in my heart.
2. What do other people say about your car? "What is it?" "I love that color!"
3. How long have you owned your Forte Koup? Since December 17 2012
4. Honestly, what was your intention when you bought your Kia? To enjoy it!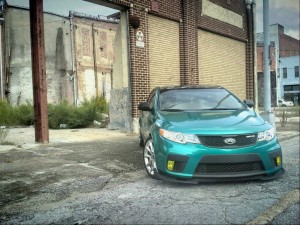 5. What do you like the most about your ride? It's easy to work on. I'm very much a DIY kind of guy, and everything about the '13 Forte is extremely easy to figure out.
6. What is it that makes your Kia Koup SX look unique? The, the Metallic Urban Digi Camo roof, and the 18×8″ Polished aluminum Mustang wheels.
7. What aftermarket accessories have you installed so far / do you have any future plans?
Well lets see, my current mods are:
– Street Carr Fabrication poly engine mounts
– K&N Typhoon (thermal wrapped)
– Modified OEM intake tube
– RRM Crank Pulley
– OBX-R Header
– Megan Test Pipe
– Magnaflow Muffler
– Power Steering Cooler
– '11 Mustang Pony package wheels
– Lowered on Megan Springs
– Rockford Fosgate T1 components
– Rockford Fosgate Punch amp
– Rockford Fosgate P1 15″ sub
– Custom made 20mm shell casing shift knob
– Smithclub V2 headlights with 2500k low beams and switchbacks
– Yellow fog lenses
– Custom front splitter
– Custom (Lowe's special lol) Side skirts
– Broken K badges
– Tinted windows and tail lights
– Emerald Pearl metallic wrap with carbon-fiber and digital camo accents
There are allot of other little things here and there that I can't recall off the top of my head.
Picture Gallery Of The Modified Kia Forte Koup SX
My plans for the near future:
– Turbo or nitrous (can't decide)
– Haltech Engine management
– Stage II Block
– Coilovers
– Retrofitted headlights
– Various chassis braces
– Changing the color a few more times 😉
Who knows, I love to tinker with my car, my plans may change 1000 times before I'm finally done. The Koup's on hold for now as I'm currently happy with my setup and my girlfriend's Forte sedan is begging for attention.
Car Specs: 2013 Kia Forte Koup SX
Engine: 2.4L 4-cylinder
Exterior color: silver original, currently emerald pearl metallic
Tire size: 225/40/ZR18
Average mpg: 27-40
Miles driven so far: 25,600