The 2017 Kia Optima is heading into its fourth generation, and now comes complete with a whole new look, as well as a new 4-cylinder turbo engine mated to the 7-speed DCT transmission.
Everyone easily sees what is going on with the visible parts of the vehicle, such as the exterior styling or changes made to the cabin, which is something that actually makes perfect sense.
What they should also be looking at, though, are the number of mechanical changes under the hood.
7-speed DCT available in Kia Optima for the first time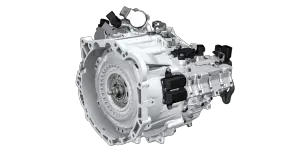 This will be the first time that Kia's new 7-speed dual clutch transmission will be appearing in the US, and it can be found in the new Optima 4-door sedan.
It may not be getting the same fanfare as the new styling of the vehicle, but it really should.
Which 2017 Optima trim offers a DCT?
The new Kia Optima comes with no less than three different engine options, each of which deliver plenty of power and performance.
The standard engine on the Optima is a 2.4L GDI engine that generates 185 horsepower.
If you are looking for something with a little more power, there is the option of the 2.0L turbo engine, which cranks out 247 horsepower.
Both of those engines are excellent choices, but both come with a 6-speed automatic.
If it's the 7-speed DCT you are after, you will need to go with the 1.6L turbocharged 4-cylinder engine.
This set-up generates 178 horsepower, and can only be found on the 2017 Kia Optima LX 1.6 turbo trim level.
Benefits of Kia's 7-speed DCT
The pairing of the new 1.6L turbo engine and the 7-speed DCT in the Optima creates a powerplant that is high on performance whilst also being great on fuel efficiency.
The end result is a fuel efficiency rating that is about 7% better than any previous version of the Kia Optima.
The new vehicle will also be faster off the mark when using this engine, as it will go from 0-62 mph 5% faster than before.
What exactly is a dual clutch transmission, I hear you all ask
A DCT makes use of a pair of different gear shafts, one for odd and one for even.
That allows shifting to feel smoother, whilst also delivering seamless torque to the wheels.
That all adds up to faster shifts, which in turn leads to quicker acceleration and a better fuel efficiency.
The new dual clutch automatic transmission – DCT is a first for Kia, who developed the unit at their R&D center in Namyang, Korea.
The biggest selling point for most will be the improved fuel efficiency, but drivers will also love the sporty driving feel they get when in manual mode.
Drivers will also notice an improved level of comfort and smoothness when operating in automatic mode.
The goals of the Kia R&D team seem to have been achieved with their new 7-speed DCT, as they set out to deliver a 3 to 5 percent improvement in acceleration, as well as a 5 to 7 percent improvement in fuel efficiency, with those numbers dependent on the model.