We thought it would be somewhat appropriate to kick off the first 2014 installment of our owner's series by talking to a proud owner of the refreshed 2014 Kia Optima.
With that in mind, let's talk to Patrick, a 43-year self-employed business owner in the aerospace and defense Industries.
As already mentioned, he is now the owner of a Snow White Pearl 2014 Kia Optima mid-size sedan.
Patrick has only been behind the wheel of his new ride for a couple of months, but he is already impressed by the sportiness and reliability of the car, not to mention the host of features that it comes with.
He is not the only one that is impressed, though, as family and friends have commented on how nice the refreshed Optima looks on the inside and out.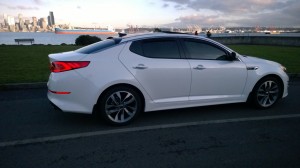 Patrick was drawn to the 2014 Optima when he realized that he needed something a little more fuel friendly than the Toyota Tundra that was his daily ride.
The great 10 year 100,000 mile warranty made his decision to purchase the Optima an easy one.
While Patrick is more than happy with the features that come standard with the car, he is also a bit of a tinkerer who likes to add his own unique styling to his car.
He has added tinted windows and LED fog lights, as well as a few other little goodies.
Read on to see the other changes he has made, and to hear about the other changes he plans on making.
1. Tell us something about your Kia car ownership experience? So far my kia Optima has been a reliable, sporty sedan with many very nice luxuries that have proven useful.
2. What do other people say about your Kia Optima? Friends and family alike frequently comment on how nice the styling is both on the inside and out.
3. How long have you owned your Optima SX-T? 2 Months
4. Honestly, what was your intention when you bought your Kia? I needed a more fuel efficient vehicle than my Toyota Tundra for a daily driver. After my test drive, and confirming the 10 year 100,000 mile warranty it was an easy choice to make.
5. What do you like the most about your ride? The peppy turbo engine. The refined interior. The exterior profile. Well, just about everything!
6. What is it that makes your 2014 Optima look unique? Some minor Modifications such as tinted windows, window visors and a rear window spoiler.
7. What accessories have you installed so far / do you have any future plan?
K Badges, 80 watt LED fog lights, 25% tinted windows, Weathertech window visors and floor mats, Xenon white interior LEDs, License plate LED lights, 50 Watt LED reverse lights.
I may install some lowering springs in the future.
Photo Gallery
 
2014 Kia Optima SX-T Specs
Eengine: 2.0 L turbo-charged 4-cyl. engine
Color: Snow White Pearl
Trim: SX-T
Model year: 2014
Tire size: 18″
Average mpg: 20 city / 34 HWY
Miles driven so far: 4000