Do you like the matte blue color on this eye-catching Optima sedan?
My name is Robert Long, I am a California native but have been in Texas for close to 10 years. I am married and we have a son.
I purchased a new Ebony Black 2011 Kia Optima LX in 2011. At the time I was driving a truck and with gas prices I was really looking for something more economical and still looked great.
I looked through all makes of vehicles and fell in love with the lines and options of the Kia Optima.
At the time Kia had never crossed my mind as a luxury vehicle but there it was with smooth lines and affordability!
Wasn't too long after I had it home I started researching aftermarket parts. I started with swapping the badges for the Korean "K" badges, then I found some great looking KMC Rockstars for cars wheels.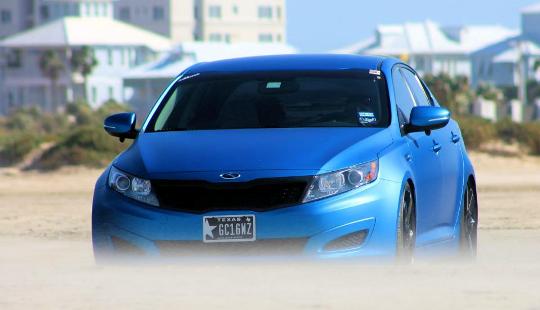 Normally they are known as being a truck wheel, even the rim dealer wasn't sure, but they flowed great with the color and look of the vehicle.
After this I entered it into my first car show and took home 1st place for Import Other Street.
From then on it was a mission to find the newest mods available and started contacting different manufactures to see if they were willing to give the Optima a chance and start making things for it.
I think this car really caught the industry by surprise and they weren't ready for all the potential. I compete regularly around Texas and have taken home many 1st place trophies.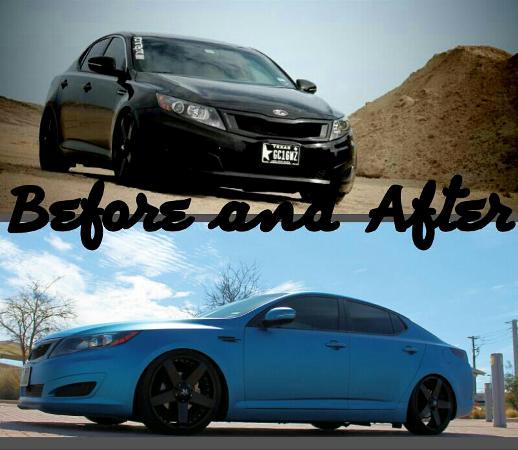 Being one of the only modded Optima's has really taken the car scene by surprise.
Spectators and other car show participants are always taken back that it's a Kia and always say amazing things about it.
I am always looking at changing the look; recently Ruthless Wraps here in Texas put on a 3M Matte Metallic Blue wrap over my stock paint and now it's getting more heads turning than ever!
Hopefully, the performance side of the market will be more accessible and that will be changed as well. I have been very happy with my Optima, performance, looks, everything about it.
Photo gallery
1. Tell us something about your Kia car ownership experience?
I originally bought this car for the fuel mileage, gas prices were getting high and I wanted to cut down the cost. I looked around and fell in love with the Kia Optima.
The best looking Kia on the road these days, they really stepped up their styling and performance.
2. What do other people say about your Kia Optima?
Since I have swapped out the badges for the "k"  and stripped all of the other badges off I get questioned almost on a daily bases of what kind of car it is, I then normally ask them to guess. I get BMW, Lexus, Mercedes even Ford once. They are always blown away when I say "It's a Kia".
3. How long have you owned your ride?
I bought the car in April of 2011 and have loved every minute of it!
4. Honestly, what was your intention when you bought your Kia?
The original reason was better fuel economy and possibly more kids. Our extended cab truck was not good planning for either of those scenario's.
5. What do you like the most about your Optima?
The thing I like most about my car is that I get all the options for the most part that all of these high end cars get and I pay half the price!
6. What is it that makes your car look unique?
I am the only optima (to my knowledge) on 20″ KMC Rockstars for cars.  Also, my new 3m Matte Metallic Blue wrap courtesy of Ruthless Wraps.
7. What accessories have you installed so far / do you have any future plans?
Modifications:
KMC Rockstars for cars 20×8
Nitto Neo Gen 225/35
D2 Racing Coilovers
Luxon Strut bar
Concept III CAI
Custom Magnaflow exhaust
(resonator back 2.25inch pipe w/ quad tips)
DDMtuning/Diode Dynamics HIDS (4300k 55w H11B)
iJDMtoy Switch back front turn signals (white/white)
Lamin-x tinted tails and reflectors
K Sea Blue Badge Swap (hood/trunk)
De badged rear
Full interior LED swap
LED Reverse lights (68 diodes per)
Tint 25% front 5% rear
3m Matte Metallic Blue & Matte Black Vinyl Wrap by Ruthless Wraps
Audio/Video:
Pioneer dbl din 7″ head unit
2 JL 8w7 Subs
Custom ported box
JL C5 Components
JL C3 Coaxials
JL HD 700/1 amp
JL HD 600/4 amp
Black Mamba Security Cameras
(front/back/left/right)
Future plans: I would love to get the Sterlin F1 turbo kit for the 2.4L optima not sure when that will happen and I may want to put Airbags Suspension on it. Also looking to revamp the audio in the trunk need to boost up the base.
Kia Optima Specs & Info
Model Year: 2011
Engine: 2.4L 4cyl
Color: OEM color is Ebony Black, vinyl wrapped Matte Metallic Blue
Trim: LX
Tire Size: 225/35/20
Average Mpg: 24
Miles driven so far: 50,258